No goals, six yellows and one red for Milan; two goals, three yellows and one worrying injury to Reece James for Chelsea. A deserved win for Graham Potter's resurgent side, who were bottom of Group E last week and are top of it now.

«,»elementId»:»92c5ea0e-d343-47eb-8d98-5d3c0d876505″},{«_type»:»model.dotcomrendering.pageElements.ImageBlockElement»,»media»:{«allImages»:[{«index»:0,»fields»:{«height»:»2554″,»width»:»4257″},»mediaType»:»Image»,»mimeType»:»image/jpeg»,»url»:»https://media.guim.co.uk/abe3f15684a4cf5ca967252c30904b9394448f00/1493_317_4257_2554/4257.jpg»},{«index»:1,»fields»:{«isMaster»:»true»,»height»:»2554″,»width»:»4257″},»mediaType»:»Image»,»mimeType»:»image/jpeg»,»url»:»https://media.guim.co.uk/abe3f15684a4cf5ca967252c30904b9394448f00/1493_317_4257_2554/master/4257.jpg»},{«index»:2,»fields»:{«height»:»1200″,»width»:»2000″},»mediaType»:»Image»,»mimeType»:»image/jpeg»,»url»:»https://media.guim.co.uk/abe3f15684a4cf5ca967252c30904b9394448f00/1493_317_4257_2554/2000.jpg»},{«index»:3,»fields»:{«height»:»600″,»width»:»1000″},»mediaType»:»Image»,»mimeType»:»image/jpeg»,»url»:»https://media.guim.co.uk/abe3f15684a4cf5ca967252c30904b9394448f00/1493_317_4257_2554/1000.jpg»},{«index»:4,»fields»:{«height»:»300″,»width»:»500″},»mediaType»:»Image»,»mimeType»:»image/jpeg»,»url»:»https://media.guim.co.uk/abe3f15684a4cf5ca967252c30904b9394448f00/1493_317_4257_2554/500.jpg»},{«index»:5,»fields»:{«height»:»84″,»width»:»140″},»mediaType»:»Image»,»mimeType»:»image/jpeg»,»url»:»https://media.guim.co.uk/abe3f15684a4cf5ca967252c30904b9394448f00/1493_317_4257_2554/140.jpg»}]},»information»:{«alt»:»Pierre-Emerick Aubameyang»,»caption»:»Flipping marvellous: Pierre-Emerick Aubameyang celebrates his purpose»,»credit score»:»{Photograph}: Antonio Calanni/AP»},»displayCredit»:true,»function»:»inline»,»imageSources»:[{«weighting»:»inline»,»srcSet»:[{«src»:»https://i.guim.co.uk/img/media/abe3f15684a4cf5ca967252c30904b9394448f00/1493_317_4257_2554/master/4257.jpg?width=620&quality=85&auto=format&fit=max&s=294e7d4a70c36e72dd44d6547ce35711″,»width»:620},{«src»:»https://i.guim.co.uk/img/media/abe3f15684a4cf5ca967252c30904b9394448f00/1493_317_4257_2554/master/4257.jpg?width=620&quality=45&auto=format&fit=max&dpr=2&s=aa7fdc391489da611fbfdf56fd452beb»,»width»:1240},{«src»:»https://i.guim.co.uk/img/media/abe3f15684a4cf5ca967252c30904b9394448f00/1493_317_4257_2554/master/4257.jpg?width=605&quality=85&auto=format&fit=max&s=40caa55a0f76b042a97aedac2cc196f6″,»width»:605},{«src»:»https://i.guim.co.uk/img/media/abe3f15684a4cf5ca967252c30904b9394448f00/1493_317_4257_2554/master/4257.jpg?width=605&quality=45&auto=format&fit=max&dpr=2&s=0e2206bbbccfb26385eedf0a4d450000″,»width»:1210},{«src»:»https://i.guim.co.uk/img/media/abe3f15684a4cf5ca967252c30904b9394448f00/1493_317_4257_2554/master/4257.jpg?width=445&quality=85&auto=format&fit=max&s=1160510293dfb322384212c119151649″,»width»:445},{«src»:»https://i.guim.co.uk/img/media/abe3f15684a4cf5ca967252c30904b9394448f00/1493_317_4257_2554/master/4257.jpg?width=445&quality=45&auto=format&fit=max&dpr=2&s=c86f1915c7bd7b56f86a436436581f6d»,»width»:890}]},{«weighting»:»thumbnail»,»srcSet»:[{«src»:»https://i.guim.co.uk/img/media/abe3f15684a4cf5ca967252c30904b9394448f00/1493_317_4257_2554/master/4257.jpg?width=140&quality=85&auto=format&fit=max&s=fd43117055b38eb4c3b4019b58920c42″,»width»:140},{«src»:»https://i.guim.co.uk/img/media/abe3f15684a4cf5ca967252c30904b9394448f00/1493_317_4257_2554/master/4257.jpg?width=140&quality=45&auto=format&fit=max&dpr=2&s=b0f7463a37fd41732871939bcaf9494b»,»width»:280},{«src»:»https://i.guim.co.uk/img/media/abe3f15684a4cf5ca967252c30904b9394448f00/1493_317_4257_2554/master/4257.jpg?width=120&quality=85&auto=format&fit=max&s=b8c07ced65025e8ce462a29406817757″,»width»:120},{«src»:»https://i.guim.co.uk/img/media/abe3f15684a4cf5ca967252c30904b9394448f00/1493_317_4257_2554/master/4257.jpg?width=120&quality=45&auto=format&fit=max&dpr=2&s=f2e9b87dfefb97c51333fbe10c1631a8″,»width»:240}]},{«weighting»:»supporting»,»srcSet»:[{«src»:»https://i.guim.co.uk/img/media/abe3f15684a4cf5ca967252c30904b9394448f00/1493_317_4257_2554/master/4257.jpg?width=380&quality=85&auto=format&fit=max&s=73e40831b5f229106680f22f1eff97c4″,»width»:380},{«src»:»https://i.guim.co.uk/img/media/abe3f15684a4cf5ca967252c30904b9394448f00/1493_317_4257_2554/master/4257.jpg?width=380&quality=45&auto=format&fit=max&dpr=2&s=daa69af733fa78cb09483d2505659109″,»width»:760},{«src»:»https://i.guim.co.uk/img/media/abe3f15684a4cf5ca967252c30904b9394448f00/1493_317_4257_2554/master/4257.jpg?width=300&quality=85&auto=format&fit=max&s=6b6ccc77b23a58f0c7000535aa4db9bc»,»width»:300},{«src»:»https://i.guim.co.uk/img/media/abe3f15684a4cf5ca967252c30904b9394448f00/1493_317_4257_2554/master/4257.jpg?width=300&quality=45&auto=format&fit=max&dpr=2&s=8d324dd45d4bc263dca9c7b541d18f70″,»width»:600},{«src»:»https://i.guim.co.uk/img/media/abe3f15684a4cf5ca967252c30904b9394448f00/1493_317_4257_2554/master/4257.jpg?width=620&quality=85&auto=format&fit=max&s=294e7d4a70c36e72dd44d6547ce35711″,»width»:620},{«src»:»https://i.guim.co.uk/img/media/abe3f15684a4cf5ca967252c30904b9394448f00/1493_317_4257_2554/master/4257.jpg?width=620&quality=45&auto=format&fit=max&dpr=2&s=aa7fdc391489da611fbfdf56fd452beb»,»width»:1240},{«src»:»https://i.guim.co.uk/img/media/abe3f15684a4cf5ca967252c30904b9394448f00/1493_317_4257_2554/master/4257.jpg?width=605&quality=85&auto=format&fit=max&s=40caa55a0f76b042a97aedac2cc196f6″,»width»:605},{«src»:»https://i.guim.co.uk/img/media/abe3f15684a4cf5ca967252c30904b9394448f00/1493_317_4257_2554/master/4257.jpg?width=605&quality=45&auto=format&fit=max&dpr=2&s=0e2206bbbccfb26385eedf0a4d450000″,»width»:1210},{«src»:»https://i.guim.co.uk/img/media/abe3f15684a4cf5ca967252c30904b9394448f00/1493_317_4257_2554/master/4257.jpg?width=445&quality=85&auto=format&fit=max&s=1160510293dfb322384212c119151649″,»width»:445},{«src»:»https://i.guim.co.uk/img/media/abe3f15684a4cf5ca967252c30904b9394448f00/1493_317_4257_2554/master/4257.jpg?width=445&quality=45&auto=format&fit=max&dpr=2&s=c86f1915c7bd7b56f86a436436581f6d»,»width»:890}]},{«weighting»:»showcase»,»srcSet»:[{«src»:»https://i.guim.co.uk/img/media/abe3f15684a4cf5ca967252c30904b9394448f00/1493_317_4257_2554/master/4257.jpg?width=860&quality=85&auto=format&fit=max&s=d1f8a3c01175d9aa812b860f3059cd61″,»width»:860},{«src»:»https://i.guim.co.uk/img/media/abe3f15684a4cf5ca967252c30904b9394448f00/1493_317_4257_2554/master/4257.jpg?width=860&quality=45&auto=format&fit=max&dpr=2&s=ad637a9abddbd6288f1989ed6c4a1c5e»,»width»:1720},{«src»:»https://i.guim.co.uk/img/media/abe3f15684a4cf5ca967252c30904b9394448f00/1493_317_4257_2554/master/4257.jpg?width=780&quality=85&auto=format&fit=max&s=392219bf31c5370e21bd56b53a040a51″,»width»:780},{«src»:»https://i.guim.co.uk/img/media/abe3f15684a4cf5ca967252c30904b9394448f00/1493_317_4257_2554/master/4257.jpg?width=780&quality=45&auto=format&fit=max&dpr=2&s=3f3c4b1b801983d5e7b798a0304d99d0″,»width»:1560},{«src»:»https://i.guim.co.uk/img/media/abe3f15684a4cf5ca967252c30904b9394448f00/1493_317_4257_2554/master/4257.jpg?width=620&quality=85&auto=format&fit=max&s=294e7d4a70c36e72dd44d6547ce35711″,»width»:620},{«src»:»https://i.guim.co.uk/img/media/abe3f15684a4cf5ca967252c30904b9394448f00/1493_317_4257_2554/master/4257.jpg?width=620&quality=45&auto=format&fit=max&dpr=2&s=aa7fdc391489da611fbfdf56fd452beb»,»width»:1240},{«src»:»https://i.guim.co.uk/img/media/abe3f15684a4cf5ca967252c30904b9394448f00/1493_317_4257_2554/master/4257.jpg?width=605&quality=85&auto=format&fit=max&s=40caa55a0f76b042a97aedac2cc196f6″,»width»:605},{«src»:»https://i.guim.co.uk/img/media/abe3f15684a4cf5ca967252c30904b9394448f00/1493_317_4257_2554/master/4257.jpg?width=605&quality=45&auto=format&fit=max&dpr=2&s=0e2206bbbccfb26385eedf0a4d450000″,»width»:1210},{«src»:»https://i.guim.co.uk/img/media/abe3f15684a4cf5ca967252c30904b9394448f00/1493_317_4257_2554/master/4257.jpg?width=445&quality=85&auto=format&fit=max&s=1160510293dfb322384212c119151649″,»width»:445},{«src»:»https://i.guim.co.uk/img/media/abe3f15684a4cf5ca967252c30904b9394448f00/1493_317_4257_2554/master/4257.jpg?width=445&quality=45&auto=format&fit=max&dpr=2&s=c86f1915c7bd7b56f86a436436581f6d»,»width»:890}]},{«weighting»:»halfwidth»,»srcSet»:[{«src»:»https://i.guim.co.uk/img/media/abe3f15684a4cf5ca967252c30904b9394448f00/1493_317_4257_2554/master/4257.jpg?width=620&quality=85&auto=format&fit=max&s=294e7d4a70c36e72dd44d6547ce35711″,»width»:620},{«src»:»https://i.guim.co.uk/img/media/abe3f15684a4cf5ca967252c30904b9394448f00/1493_317_4257_2554/master/4257.jpg?width=620&quality=45&auto=format&fit=max&dpr=2&s=aa7fdc391489da611fbfdf56fd452beb»,»width»:1240},{«src»:»https://i.guim.co.uk/img/media/abe3f15684a4cf5ca967252c30904b9394448f00/1493_317_4257_2554/master/4257.jpg?width=605&quality=85&auto=format&fit=max&s=40caa55a0f76b042a97aedac2cc196f6″,»width»:605},{«src»:»https://i.guim.co.uk/img/media/abe3f15684a4cf5ca967252c30904b9394448f00/1493_317_4257_2554/master/4257.jpg?width=605&quality=45&auto=format&fit=max&dpr=2&s=0e2206bbbccfb26385eedf0a4d450000″,»width»:1210},{«src»:»https://i.guim.co.uk/img/media/abe3f15684a4cf5ca967252c30904b9394448f00/1493_317_4257_2554/master/4257.jpg?width=445&quality=85&auto=format&fit=max&s=1160510293dfb322384212c119151649″,»width»:445},{«src»:»https://i.guim.co.uk/img/media/abe3f15684a4cf5ca967252c30904b9394448f00/1493_317_4257_2554/master/4257.jpg?width=445&quality=45&auto=format&fit=max&dpr=2&s=c86f1915c7bd7b56f86a436436581f6d»,»width»:890}]},{«weighting»:»immersive»,»srcSet»:[{«src»:»https://i.guim.co.uk/img/media/abe3f15684a4cf5ca967252c30904b9394448f00/1493_317_4257_2554/master/4257.jpg?width=1900&quality=85&auto=format&fit=max&s=85ae6e5c59942ff0a88e6079426776b4″,»width»:1900},{«src»:»https://i.guim.co.uk/img/media/abe3f15684a4cf5ca967252c30904b9394448f00/1493_317_4257_2554/master/4257.jpg?width=1900&quality=45&auto=format&fit=max&dpr=2&s=018557b31c5dac6d98d6ddea7c7fc2e6″,»width»:3800},{«src»:»https://i.guim.co.uk/img/media/abe3f15684a4cf5ca967252c30904b9394448f00/1493_317_4257_2554/master/4257.jpg?width=1300&quality=85&auto=format&fit=max&s=c78ecdba9491bf8ce991d076fad0cafc»,»width»:1300},{«src»:»https://i.guim.co.uk/img/media/abe3f15684a4cf5ca967252c30904b9394448f00/1493_317_4257_2554/master/4257.jpg?width=1300&quality=45&auto=format&fit=max&dpr=2&s=0a89d0a9007b45e065e80de2821f2a83″,»width»:2600},{«src»:»https://i.guim.co.uk/img/media/abe3f15684a4cf5ca967252c30904b9394448f00/1493_317_4257_2554/master/4257.jpg?width=1140&quality=85&auto=format&fit=max&s=e027c5dd44dfbae40157ee8646ebf5f4″,»width»:1140},{«src»:»https://i.guim.co.uk/img/media/abe3f15684a4cf5ca967252c30904b9394448f00/1493_317_4257_2554/master/4257.jpg?width=1140&quality=45&auto=format&fit=max&dpr=2&s=a72e91506473df550b600c69fbf50d62″,»width»:2280},{«src»:»https://i.guim.co.uk/img/media/abe3f15684a4cf5ca967252c30904b9394448f00/1493_317_4257_2554/master/4257.jpg?width=980&quality=85&auto=format&fit=max&s=5d8bfeef38bbea98bcd05099b631af81″,»width»:980},{«src»:»https://i.guim.co.uk/img/media/abe3f15684a4cf5ca967252c30904b9394448f00/1493_317_4257_2554/master/4257.jpg?width=980&quality=45&auto=format&fit=max&dpr=2&s=3a6609faa3676bbc15d4b8b2765d0f41″,»width»:1960},{«src»:»https://i.guim.co.uk/img/media/abe3f15684a4cf5ca967252c30904b9394448f00/1493_317_4257_2554/master/4257.jpg?width=740&quality=85&auto=format&fit=max&s=e1c3455404bb141307b0e6934c4d66da»,»width»:740},{«src»:»https://i.guim.co.uk/img/media/abe3f15684a4cf5ca967252c30904b9394448f00/1493_317_4257_2554/master/4257.jpg?width=740&quality=45&auto=format&fit=max&dpr=2&s=37dd56b48021d5df34adf468b8ba2d5f»,»width»:1480},{«src»:»https://i.guim.co.uk/img/media/abe3f15684a4cf5ca967252c30904b9394448f00/1493_317_4257_2554/master/4257.jpg?width=660&quality=85&auto=format&fit=max&s=b6dcdc1c751cda70947e6c9dc465d08a»,»width»:660},{«src»:»https://i.guim.co.uk/img/media/abe3f15684a4cf5ca967252c30904b9394448f00/1493_317_4257_2554/master/4257.jpg?width=660&quality=45&auto=format&fit=max&dpr=2&s=cfe89264d860c189f690029027edf729″,»width»:1320},{«src»:»https://i.guim.co.uk/img/media/abe3f15684a4cf5ca967252c30904b9394448f00/1493_317_4257_2554/master/4257.jpg?width=480&quality=85&auto=format&fit=max&s=132d586b71e92b742a44276cd5ab47a2″,»width»:480},{«src»:»https://i.guim.co.uk/img/media/abe3f15684a4cf5ca967252c30904b9394448f00/1493_317_4257_2554/master/4257.jpg?width=480&quality=45&auto=format&fit=max&dpr=2&s=79a6ff924bd934f350c1e271897b46dd»,»width»:960}]}],»elementId»:»0541839c-e91a-4389-99ad-2cf7399d67b1″}],»attributes»:{«pinned»:false,»keyEvent»:true,»abstract»:false},»blockCreatedOn»:1665521868000,»blockCreatedOnDisplay»:»16.57 EDT»,»blockLastUpdated»:1665522361000,»blockLastUpdatedDisplay»:»17.06 EDT»,»blockFirstPublished»:1665521974000,»blockFirstPublishedDisplay»:»16.59 EDT»,»blockFirstPublishedDisplayNoTimezone»:»16.59″,»title»:»FULL TIME: Milan 0-2 Chelsea»,»contributors»:[],»primaryDateLine»:»Tue 11 Oct 2022 17.24 EDT»,»secondaryDateLine»:»First revealed on Tue 11 Oct 2022 14.00 EDT»},{«id»:»6345c9298f085d1d9ceb9fbb»,»parts»:[{«_type»:»model.dotcomrendering.pageElements.TextBlockElement»,»html»:»

Milan hear the half-time whistle. Then different kinds of whistles as their fans give referee Daniel Siebert the bird. Say what you like about severity (or otherwise) of the penalty and red card decision, Chelsea have been magnificent and are well worth their lead.

«,»elementId»:»19cc017d-fd68-4455-9593-b388caeaaddb»},{«_type»:»model.dotcomrendering.pageElements.ImageBlockElement»,»media»:{«allImages»:[{«index»:0,»fields»:{«height»:»1850″,»width»:»3083″},»mediaType»:»Image»,»mimeType»:»image/jpeg»,»url»:»https://media.guim.co.uk/30a2db5e68abf43ccd09073dadb9abf2cb22f753/0_33_3083_1850/3083.jpg»},{«index»:1,»fields»:{«isMaster»:»true»,»height»:»1850″,»width»:»3083″},»mediaType»:»Image»,»mimeType»:»image/jpeg»,»url»:»https://media.guim.co.uk/30a2db5e68abf43ccd09073dadb9abf2cb22f753/0_33_3083_1850/master/3083.jpg»},{«index»:2,»fields»:{«height»:»1200″,»width»:»2000″},»mediaType»:»Image»,»mimeType»:»image/jpeg»,»url»:»https://media.guim.co.uk/30a2db5e68abf43ccd09073dadb9abf2cb22f753/0_33_3083_1850/2000.jpg»},{«index»:3,»fields»:{«height»:»600″,»width»:»1000″},»mediaType»:»Image»,»mimeType»:»image/jpeg»,»url»:»https://media.guim.co.uk/30a2db5e68abf43ccd09073dadb9abf2cb22f753/0_33_3083_1850/1000.jpg»},{«index»:4,»fields»:{«height»:»300″,»width»:»500″},»mediaType»:»Image»,»mimeType»:»image/jpeg»,»url»:»https://media.guim.co.uk/30a2db5e68abf43ccd09073dadb9abf2cb22f753/0_33_3083_1850/500.jpg»},{«index»:5,»fields»:{«height»:»84″,»width»:»140″},»mediaType»:»Image»,»mimeType»:»image/jpeg»,»url»:»https://media.guim.co.uk/30a2db5e68abf43ccd09073dadb9abf2cb22f753/0_33_3083_1850/140.jpg»}]},»information»:{«alt»:»Chelsea's Jorginho has a inexperienced laser pointed at his face as he takes a penalty»,»caption»:»Chelsea's Jorginho has a inexperienced laser pointed at his face as he takes a penalty «,»credit score»:»{Photograph}: Fabrizio Carabelli/PA»},»displayCredit»:true,»function»:»inline»,»imageSources»:[{«weighting»:»inline»,»srcSet»:[{«src»:»https://i.guim.co.uk/img/media/30a2db5e68abf43ccd09073dadb9abf2cb22f753/0_33_3083_1850/master/3083.jpg?width=620&quality=85&auto=format&fit=max&s=588c3c7756462668696d9f44cd5e020f»,»width»:620},{«src»:»https://i.guim.co.uk/img/media/30a2db5e68abf43ccd09073dadb9abf2cb22f753/0_33_3083_1850/master/3083.jpg?width=620&quality=45&auto=format&fit=max&dpr=2&s=b549c1a5323925e1d9146325efec874b»,»width»:1240},{«src»:»https://i.guim.co.uk/img/media/30a2db5e68abf43ccd09073dadb9abf2cb22f753/0_33_3083_1850/master/3083.jpg?width=605&quality=85&auto=format&fit=max&s=73982882d344407a70864304a724d9d6″,»width»:605},{«src»:»https://i.guim.co.uk/img/media/30a2db5e68abf43ccd09073dadb9abf2cb22f753/0_33_3083_1850/master/3083.jpg?width=605&quality=45&auto=format&fit=max&dpr=2&s=0e6545ca3413de7ec3d4b54f7307b38d»,»width»:1210},{«src»:»https://i.guim.co.uk/img/media/30a2db5e68abf43ccd09073dadb9abf2cb22f753/0_33_3083_1850/master/3083.jpg?width=445&quality=85&auto=format&fit=max&s=52759adde738cf1ba84d3a8c30e830f7″,»width»:445},{«src»:»https://i.guim.co.uk/img/media/30a2db5e68abf43ccd09073dadb9abf2cb22f753/0_33_3083_1850/master/3083.jpg?width=445&quality=45&auto=format&fit=max&dpr=2&s=67306fccae42a2869fa52fed96de54ca»,»width»:890}]},{«weighting»:»thumbnail»,»srcSet»:[{«src»:»https://i.guim.co.uk/img/media/30a2db5e68abf43ccd09073dadb9abf2cb22f753/0_33_3083_1850/master/3083.jpg?width=140&quality=85&auto=format&fit=max&s=e74f184fec0c33225b700731a93fb1a5″,»width»:140},{«src»:»https://i.guim.co.uk/img/media/30a2db5e68abf43ccd09073dadb9abf2cb22f753/0_33_3083_1850/master/3083.jpg?width=140&quality=45&auto=format&fit=max&dpr=2&s=fdd3bd5deebfc5220ca5ff168d09495a»,»width»:280},{«src»:»https://i.guim.co.uk/img/media/30a2db5e68abf43ccd09073dadb9abf2cb22f753/0_33_3083_1850/master/3083.jpg?width=120&quality=85&auto=format&fit=max&s=295b2f121559b66cc26eec8c124f4873″,»width»:120},{«src»:»https://i.guim.co.uk/img/media/30a2db5e68abf43ccd09073dadb9abf2cb22f753/0_33_3083_1850/master/3083.jpg?width=120&quality=45&auto=format&fit=max&dpr=2&s=8abdc23296869a9f1b6d703515840efd»,»width»:240}]},{«weighting»:»supporting»,»srcSet»:[{«src»:»https://i.guim.co.uk/img/media/30a2db5e68abf43ccd09073dadb9abf2cb22f753/0_33_3083_1850/master/3083.jpg?width=380&quality=85&auto=format&fit=max&s=e02b86d7c8d30def122147b5a1911085″,»width»:380},{«src»:»https://i.guim.co.uk/img/media/30a2db5e68abf43ccd09073dadb9abf2cb22f753/0_33_3083_1850/master/3083.jpg?width=380&quality=45&auto=format&fit=max&dpr=2&s=4c76a86397fd9dbef90fe740eb41f0d0″,»width»:760},{«src»:»https://i.guim.co.uk/img/media/30a2db5e68abf43ccd09073dadb9abf2cb22f753/0_33_3083_1850/master/3083.jpg?width=300&quality=85&auto=format&fit=max&s=8903b4f3f1c37e6858390bcb63c66354″,»width»:300},{«src»:»https://i.guim.co.uk/img/media/30a2db5e68abf43ccd09073dadb9abf2cb22f753/0_33_3083_1850/master/3083.jpg?width=300&quality=45&auto=format&fit=max&dpr=2&s=f882c7ea7c7ebb40ef021a2fe500c1a6″,»width»:600},{«src»:»https://i.guim.co.uk/img/media/30a2db5e68abf43ccd09073dadb9abf2cb22f753/0_33_3083_1850/master/3083.jpg?width=620&quality=85&auto=format&fit=max&s=588c3c7756462668696d9f44cd5e020f»,»width»:620},{«src»:»https://i.guim.co.uk/img/media/30a2db5e68abf43ccd09073dadb9abf2cb22f753/0_33_3083_1850/master/3083.jpg?width=620&quality=45&auto=format&fit=max&dpr=2&s=b549c1a5323925e1d9146325efec874b»,»width»:1240},{«src»:»https://i.guim.co.uk/img/media/30a2db5e68abf43ccd09073dadb9abf2cb22f753/0_33_3083_1850/master/3083.jpg?width=605&quality=85&auto=format&fit=max&s=73982882d344407a70864304a724d9d6″,»width»:605},{«src»:»https://i.guim.co.uk/img/media/30a2db5e68abf43ccd09073dadb9abf2cb22f753/0_33_3083_1850/master/3083.jpg?width=605&quality=45&auto=format&fit=max&dpr=2&s=0e6545ca3413de7ec3d4b54f7307b38d»,»width»:1210},{«src»:»https://i.guim.co.uk/img/media/30a2db5e68abf43ccd09073dadb9abf2cb22f753/0_33_3083_1850/master/3083.jpg?width=445&quality=85&auto=format&fit=max&s=52759adde738cf1ba84d3a8c30e830f7″,»width»:445},{«src»:»https://i.guim.co.uk/img/media/30a2db5e68abf43ccd09073dadb9abf2cb22f753/0_33_3083_1850/master/3083.jpg?width=445&quality=45&auto=format&fit=max&dpr=2&s=67306fccae42a2869fa52fed96de54ca»,»width»:890}]},{«weighting»:»showcase»,»srcSet»:[{«src»:»https://i.guim.co.uk/img/media/30a2db5e68abf43ccd09073dadb9abf2cb22f753/0_33_3083_1850/master/3083.jpg?width=860&quality=85&auto=format&fit=max&s=40655ec264602ebb1964427ad379ebdb»,»width»:860},{«src»:»https://i.guim.co.uk/img/media/30a2db5e68abf43ccd09073dadb9abf2cb22f753/0_33_3083_1850/master/3083.jpg?width=860&quality=45&auto=format&fit=max&dpr=2&s=492fbdefd6d5c3c6466229c11571e273″,»width»:1720},{«src»:»https://i.guim.co.uk/img/media/30a2db5e68abf43ccd09073dadb9abf2cb22f753/0_33_3083_1850/master/3083.jpg?width=780&quality=85&auto=format&fit=max&s=178330611fb953e37bd488eb6208dc18″,»width»:780},{«src»:»https://i.guim.co.uk/img/media/30a2db5e68abf43ccd09073dadb9abf2cb22f753/0_33_3083_1850/master/3083.jpg?width=780&quality=45&auto=format&fit=max&dpr=2&s=f03bae3badf3179b812969381f3c22bf»,»width»:1560},{«src»:»https://i.guim.co.uk/img/media/30a2db5e68abf43ccd09073dadb9abf2cb22f753/0_33_3083_1850/master/3083.jpg?width=620&quality=85&auto=format&fit=max&s=588c3c7756462668696d9f44cd5e020f»,»width»:620},{«src»:»https://i.guim.co.uk/img/media/30a2db5e68abf43ccd09073dadb9abf2cb22f753/0_33_3083_1850/master/3083.jpg?width=620&quality=45&auto=format&fit=max&dpr=2&s=b549c1a5323925e1d9146325efec874b»,»width»:1240},{«src»:»https://i.guim.co.uk/img/media/30a2db5e68abf43ccd09073dadb9abf2cb22f753/0_33_3083_1850/master/3083.jpg?width=605&quality=85&auto=format&fit=max&s=73982882d344407a70864304a724d9d6″,»width»:605},{«src»:»https://i.guim.co.uk/img/media/30a2db5e68abf43ccd09073dadb9abf2cb22f753/0_33_3083_1850/master/3083.jpg?width=605&quality=45&auto=format&fit=max&dpr=2&s=0e6545ca3413de7ec3d4b54f7307b38d»,»width»:1210},{«src»:»https://i.guim.co.uk/img/media/30a2db5e68abf43ccd09073dadb9abf2cb22f753/0_33_3083_1850/master/3083.jpg?width=445&quality=85&auto=format&fit=max&s=52759adde738cf1ba84d3a8c30e830f7″,»width»:445},{«src»:»https://i.guim.co.uk/img/media/30a2db5e68abf43ccd09073dadb9abf2cb22f753/0_33_3083_1850/master/3083.jpg?width=445&quality=45&auto=format&fit=max&dpr=2&s=67306fccae42a2869fa52fed96de54ca»,»width»:890}]},{«weighting»:»halfwidth»,»srcSet»:[{«src»:»https://i.guim.co.uk/img/media/30a2db5e68abf43ccd09073dadb9abf2cb22f753/0_33_3083_1850/master/3083.jpg?width=620&quality=85&auto=format&fit=max&s=588c3c7756462668696d9f44cd5e020f»,»width»:620},{«src»:»https://i.guim.co.uk/img/media/30a2db5e68abf43ccd09073dadb9abf2cb22f753/0_33_3083_1850/master/3083.jpg?width=620&quality=45&auto=format&fit=max&dpr=2&s=b549c1a5323925e1d9146325efec874b»,»width»:1240},{«src»:»https://i.guim.co.uk/img/media/30a2db5e68abf43ccd09073dadb9abf2cb22f753/0_33_3083_1850/master/3083.jpg?width=605&quality=85&auto=format&fit=max&s=73982882d344407a70864304a724d9d6″,»width»:605},{«src»:»https://i.guim.co.uk/img/media/30a2db5e68abf43ccd09073dadb9abf2cb22f753/0_33_3083_1850/master/3083.jpg?width=605&quality=45&auto=format&fit=max&dpr=2&s=0e6545ca3413de7ec3d4b54f7307b38d»,»width»:1210},{«src»:»https://i.guim.co.uk/img/media/30a2db5e68abf43ccd09073dadb9abf2cb22f753/0_33_3083_1850/master/3083.jpg?width=445&quality=85&auto=format&fit=max&s=52759adde738cf1ba84d3a8c30e830f7″,»width»:445},{«src»:»https://i.guim.co.uk/img/media/30a2db5e68abf43ccd09073dadb9abf2cb22f753/0_33_3083_1850/master/3083.jpg?width=445&quality=45&auto=format&fit=max&dpr=2&s=67306fccae42a2869fa52fed96de54ca»,»width»:890}]},{«weighting»:»immersive»,»srcSet»:[{«src»:»https://i.guim.co.uk/img/media/30a2db5e68abf43ccd09073dadb9abf2cb22f753/0_33_3083_1850/master/3083.jpg?width=1900&quality=85&auto=format&fit=max&s=dc3b60c2ed82cf114f95e43741c20c54″,»width»:1900},{«src»:»https://i.guim.co.uk/img/media/30a2db5e68abf43ccd09073dadb9abf2cb22f753/0_33_3083_1850/master/3083.jpg?width=1900&quality=45&auto=format&fit=max&dpr=2&s=131c4c06d53f3edbc89c60dbf8840b70″,»width»:3800},{«src»:»https://i.guim.co.uk/img/media/30a2db5e68abf43ccd09073dadb9abf2cb22f753/0_33_3083_1850/master/3083.jpg?width=1300&quality=85&auto=format&fit=max&s=523a1a52e827b715db7f9d622a45beea»,»width»:1300},{«src»:»https://i.guim.co.uk/img/media/30a2db5e68abf43ccd09073dadb9abf2cb22f753/0_33_3083_1850/master/3083.jpg?width=1300&quality=45&auto=format&fit=max&dpr=2&s=4d0ba9b7282c3bc8ce242347aae112ed»,»width»:2600},{«src»:»https://i.guim.co.uk/img/media/30a2db5e68abf43ccd09073dadb9abf2cb22f753/0_33_3083_1850/master/3083.jpg?width=1140&quality=85&auto=format&fit=max&s=f23a9c730865cc4250dadd19eabdceb7″,»width»:1140},{«src»:»https://i.guim.co.uk/img/media/30a2db5e68abf43ccd09073dadb9abf2cb22f753/0_33_3083_1850/master/3083.jpg?width=1140&quality=45&auto=format&fit=max&dpr=2&s=96ac6979a8e36ee4351a3bc1dd7a77b1″,»width»:2280},{«src»:»https://i.guim.co.uk/img/media/30a2db5e68abf43ccd09073dadb9abf2cb22f753/0_33_3083_1850/master/3083.jpg?width=980&quality=85&auto=format&fit=max&s=e26436d87130027dcb96f51bc6db575f»,»width»:980},{«src»:»https://i.guim.co.uk/img/media/30a2db5e68abf43ccd09073dadb9abf2cb22f753/0_33_3083_1850/master/3083.jpg?width=980&quality=45&auto=format&fit=max&dpr=2&s=ef75122de8d43288899a73f12348a5d7″,»width»:1960},{«src»:»https://i.guim.co.uk/img/media/30a2db5e68abf43ccd09073dadb9abf2cb22f753/0_33_3083_1850/master/3083.jpg?width=740&quality=85&auto=format&fit=max&s=f7012c0ea41cc7a371fc6aa2a59bd1aa»,»width»:740},{«src»:»https://i.guim.co.uk/img/media/30a2db5e68abf43ccd09073dadb9abf2cb22f753/0_33_3083_1850/master/3083.jpg?width=740&quality=45&auto=format&fit=max&dpr=2&s=e501f6c457981a43d611d35b41741384″,»width»:1480},{«src»:»https://i.guim.co.uk/img/media/30a2db5e68abf43ccd09073dadb9abf2cb22f753/0_33_3083_1850/master/3083.jpg?width=660&quality=85&auto=format&fit=max&s=97fd164fb90abb76535fd82a2fc66668″,»width»:660},{«src»:»https://i.guim.co.uk/img/media/30a2db5e68abf43ccd09073dadb9abf2cb22f753/0_33_3083_1850/master/3083.jpg?width=660&quality=45&auto=format&fit=max&dpr=2&s=29f2b0229faebd7f1ba02796dcae790a»,»width»:1320},{«src»:»https://i.guim.co.uk/img/media/30a2db5e68abf43ccd09073dadb9abf2cb22f753/0_33_3083_1850/master/3083.jpg?width=480&quality=85&auto=format&fit=max&s=c63c35958927e1d5e07688aa47737ffc»,»width»:480},{«src»:»https://i.guim.co.uk/img/media/30a2db5e68abf43ccd09073dadb9abf2cb22f753/0_33_3083_1850/master/3083.jpg?width=480&quality=45&auto=format&fit=max&dpr=2&s=2a9a76683852c234d84e0821c5ed646f»,»width»:960}]}],»elementId»:»85029dfb-c748-4652-bcbb-c4342f6c6bd7″}],»attributes»:{«pinned»:false,»keyEvent»:true,»abstract»:false},»blockCreatedOn»:1665517865000,»blockCreatedOnDisplay»:»15.51 EDT»,»blockLastUpdated»:1665518534000,»blockLastUpdatedDisplay»:»16.02 EDT»,»blockFirstPublished»:1665518001000,»blockFirstPublishedDisplay»:»15.53 EDT»,»blockFirstPublishedDisplayNoTimezone»:»15.53″,»title»:»HALF TIME: Milan 0-2 Chelsea»,»contributors»:[],»primaryDateLine»:»Tue 11 Oct 2022 17.24 EDT»,»secondaryDateLine»:»First revealed on Tue 11 Oct 2022 14.00 EDT»},{«id»:»6345c54b8f08253e9d659455″,»parts»:[{«_type»:»model.dotcomrendering.pageElements.TextBlockElement»,»html»:»

This is such a sweet goal! Chelsea ping it around patiently, only to suddenly spring into action. Kovacic rolls a pass towards Mount on the left-hand edge of the D. Mount immediately pings it to his right, intended for Sterling. But Sterling leaves the ball for Aubameyang, who charges in and whips a sensational sidefoot into the bottom right!

«,»elementId»:»b986b6be-5bdf-4621-bd52-0da3654fc503″},{«_type»:»model.dotcomrendering.pageElements.ImageBlockElement»,»media»:{«allImages»:[{«index»:0,»fields»:{«height»:»2101″,»width»:»3500″},»mediaType»:»Image»,»mimeType»:»image/jpeg»,»url»:»https://media.guim.co.uk/19d8d9a2a036afa48f881e1fcae1e610022e5b70/0_101_3500_2101/3500.jpg»},{«index»:1,»fields»:{«isMaster»:»true»,»height»:»2101″,»width»:»3500″},»mediaType»:»Image»,»mimeType»:»image/jpeg»,»url»:»https://media.guim.co.uk/19d8d9a2a036afa48f881e1fcae1e610022e5b70/0_101_3500_2101/master/3500.jpg»},{«index»:2,»fields»:{«height»:»1200″,»width»:»2000″},»mediaType»:»Image»,»mimeType»:»image/jpeg»,»url»:»https://media.guim.co.uk/19d8d9a2a036afa48f881e1fcae1e610022e5b70/0_101_3500_2101/2000.jpg»},{«index»:3,»fields»:{«height»:»600″,»width»:»1000″},»mediaType»:»Image»,»mimeType»:»image/jpeg»,»url»:»https://media.guim.co.uk/19d8d9a2a036afa48f881e1fcae1e610022e5b70/0_101_3500_2101/1000.jpg»},{«index»:4,»fields»:{«height»:»300″,»width»:»500″},»mediaType»:»Image»,»mimeType»:»image/jpeg»,»url»:»https://media.guim.co.uk/19d8d9a2a036afa48f881e1fcae1e610022e5b70/0_101_3500_2101/500.jpg»},{«index»:5,»fields»:{«height»:»84″,»width»:»140″},»mediaType»:»Image»,»mimeType»:»image/jpeg»,»url»:»https://media.guim.co.uk/19d8d9a2a036afa48f881e1fcae1e610022e5b70/0_101_3500_2101/140.jpg»}]},»information»:{«alt»:»Sterling leaves the ball for Pierre-Emerick Aubameyang who scores their second purpose»,»caption»:»Sterling leaves the ball for Pierre-Emerick Aubameyang who scores their second purpose»,»credit score»:»{Photograph}: Alberto Lingria/Reuters»},»displayCredit»:true,»function»:»inline»,»imageSources»:[{«weighting»:»inline»,»srcSet»:[{«src»:»https://i.guim.co.uk/img/media/19d8d9a2a036afa48f881e1fcae1e610022e5b70/0_101_3500_2101/master/3500.jpg?width=620&quality=85&auto=format&fit=max&s=ebc4e48cdc2966e43b0a47c15893e7fe»,»width»:620},{«src»:»https://i.guim.co.uk/img/media/19d8d9a2a036afa48f881e1fcae1e610022e5b70/0_101_3500_2101/master/3500.jpg?width=620&quality=45&auto=format&fit=max&dpr=2&s=a70663e89bb9d04e1dd25cbe719271c3″,»width»:1240},{«src»:»https://i.guim.co.uk/img/media/19d8d9a2a036afa48f881e1fcae1e610022e5b70/0_101_3500_2101/master/3500.jpg?width=605&quality=85&auto=format&fit=max&s=ae5147bd61d30be451828a7b7e0a2600″,»width»:605},{«src»:»https://i.guim.co.uk/img/media/19d8d9a2a036afa48f881e1fcae1e610022e5b70/0_101_3500_2101/master/3500.jpg?width=605&quality=45&auto=format&fit=max&dpr=2&s=8d80179f3451f0469e1a652b972c5b33″,»width»:1210},{«src»:»https://i.guim.co.uk/img/media/19d8d9a2a036afa48f881e1fcae1e610022e5b70/0_101_3500_2101/master/3500.jpg?width=445&quality=85&auto=format&fit=max&s=c1d10eb747a3ac0174dad033579690b1″,»width»:445},{«src»:»https://i.guim.co.uk/img/media/19d8d9a2a036afa48f881e1fcae1e610022e5b70/0_101_3500_2101/master/3500.jpg?width=445&quality=45&auto=format&fit=max&dpr=2&s=dbc5a3836f0d7d53fb6ca4cb1e4a2cd9″,»width»:890}]},{«weighting»:»thumbnail»,»srcSet»:[{«src»:»https://i.guim.co.uk/img/media/19d8d9a2a036afa48f881e1fcae1e610022e5b70/0_101_3500_2101/master/3500.jpg?width=140&quality=85&auto=format&fit=max&s=64df1463786e0c516ebc35a547f787fe»,»width»:140},{«src»:»https://i.guim.co.uk/img/media/19d8d9a2a036afa48f881e1fcae1e610022e5b70/0_101_3500_2101/master/3500.jpg?width=140&quality=45&auto=format&fit=max&dpr=2&s=9f1bf6144432cde2772bab68ff32bc7b»,»width»:280},{«src»:»https://i.guim.co.uk/img/media/19d8d9a2a036afa48f881e1fcae1e610022e5b70/0_101_3500_2101/master/3500.jpg?width=120&quality=85&auto=format&fit=max&s=67b15e0c0f36ccf65b0b5e41f75e1d43″,»width»:120},{«src»:»https://i.guim.co.uk/img/media/19d8d9a2a036afa48f881e1fcae1e610022e5b70/0_101_3500_2101/master/3500.jpg?width=120&quality=45&auto=format&fit=max&dpr=2&s=177f4c84591e08f2b0cc7788e7016450″,»width»:240}]},{«weighting»:»supporting»,»srcSet»:[{«src»:»https://i.guim.co.uk/img/media/19d8d9a2a036afa48f881e1fcae1e610022e5b70/0_101_3500_2101/master/3500.jpg?width=380&quality=85&auto=format&fit=max&s=1870a2c7276613f820bbc7ef55d29999″,»width»:380},{«src»:»https://i.guim.co.uk/img/media/19d8d9a2a036afa48f881e1fcae1e610022e5b70/0_101_3500_2101/master/3500.jpg?width=380&quality=45&auto=format&fit=max&dpr=2&s=668ef6a1816b7dd76181e04ad632adfd»,»width»:760},{«src»:»https://i.guim.co.uk/img/media/19d8d9a2a036afa48f881e1fcae1e610022e5b70/0_101_3500_2101/master/3500.jpg?width=300&quality=85&auto=format&fit=max&s=ec7a4ff8312eabef4154a5091701c211″,»width»:300},{«src»:»https://i.guim.co.uk/img/media/19d8d9a2a036afa48f881e1fcae1e610022e5b70/0_101_3500_2101/master/3500.jpg?width=300&quality=45&auto=format&fit=max&dpr=2&s=7ade63b946c76b3730ac6e72f0f1393f»,»width»:600},{«src»:»https://i.guim.co.uk/img/media/19d8d9a2a036afa48f881e1fcae1e610022e5b70/0_101_3500_2101/master/3500.jpg?width=620&quality=85&auto=format&fit=max&s=ebc4e48cdc2966e43b0a47c15893e7fe»,»width»:620},{«src»:»https://i.guim.co.uk/img/media/19d8d9a2a036afa48f881e1fcae1e610022e5b70/0_101_3500_2101/master/3500.jpg?width=620&quality=45&auto=format&fit=max&dpr=2&s=a70663e89bb9d04e1dd25cbe719271c3″,»width»:1240},{«src»:»https://i.guim.co.uk/img/media/19d8d9a2a036afa48f881e1fcae1e610022e5b70/0_101_3500_2101/master/3500.jpg?width=605&quality=85&auto=format&fit=max&s=ae5147bd61d30be451828a7b7e0a2600″,»width»:605},{«src»:»https://i.guim.co.uk/img/media/19d8d9a2a036afa48f881e1fcae1e610022e5b70/0_101_3500_2101/master/3500.jpg?width=605&quality=45&auto=format&fit=max&dpr=2&s=8d80179f3451f0469e1a652b972c5b33″,»width»:1210},{«src»:»https://i.guim.co.uk/img/media/19d8d9a2a036afa48f881e1fcae1e610022e5b70/0_101_3500_2101/master/3500.jpg?width=445&quality=85&auto=format&fit=max&s=c1d10eb747a3ac0174dad033579690b1″,»width»:445},{«src»:»https://i.guim.co.uk/img/media/19d8d9a2a036afa48f881e1fcae1e610022e5b70/0_101_3500_2101/master/3500.jpg?width=445&quality=45&auto=format&fit=max&dpr=2&s=dbc5a3836f0d7d53fb6ca4cb1e4a2cd9″,»width»:890}]},{«weighting»:»showcase»,»srcSet»:[{«src»:»https://i.guim.co.uk/img/media/19d8d9a2a036afa48f881e1fcae1e610022e5b70/0_101_3500_2101/master/3500.jpg?width=860&quality=85&auto=format&fit=max&s=1886b08da5b356a4fa98b7860938386d»,»width»:860},{«src»:»https://i.guim.co.uk/img/media/19d8d9a2a036afa48f881e1fcae1e610022e5b70/0_101_3500_2101/master/3500.jpg?width=860&quality=45&auto=format&fit=max&dpr=2&s=ca9c2c0252d6cd0682a01deda1713de7″,»width»:1720},{«src»:»https://i.guim.co.uk/img/media/19d8d9a2a036afa48f881e1fcae1e610022e5b70/0_101_3500_2101/master/3500.jpg?width=780&quality=85&auto=format&fit=max&s=94599f0b4bd600d92011f22cef58831f»,»width»:780},{«src»:»https://i.guim.co.uk/img/media/19d8d9a2a036afa48f881e1fcae1e610022e5b70/0_101_3500_2101/master/3500.jpg?width=780&quality=45&auto=format&fit=max&dpr=2&s=8d44daed770946fe567d21fc5c94868b»,»width»:1560},{«src»:»https://i.guim.co.uk/img/media/19d8d9a2a036afa48f881e1fcae1e610022e5b70/0_101_3500_2101/master/3500.jpg?width=620&quality=85&auto=format&fit=max&s=ebc4e48cdc2966e43b0a47c15893e7fe»,»width»:620},{«src»:»https://i.guim.co.uk/img/media/19d8d9a2a036afa48f881e1fcae1e610022e5b70/0_101_3500_2101/master/3500.jpg?width=620&quality=45&auto=format&fit=max&dpr=2&s=a70663e89bb9d04e1dd25cbe719271c3″,»width»:1240},{«src»:»https://i.guim.co.uk/img/media/19d8d9a2a036afa48f881e1fcae1e610022e5b70/0_101_3500_2101/master/3500.jpg?width=605&quality=85&auto=format&fit=max&s=ae5147bd61d30be451828a7b7e0a2600″,»width»:605},{«src»:»https://i.guim.co.uk/img/media/19d8d9a2a036afa48f881e1fcae1e610022e5b70/0_101_3500_2101/master/3500.jpg?width=605&quality=45&auto=format&fit=max&dpr=2&s=8d80179f3451f0469e1a652b972c5b33″,»width»:1210},{«src»:»https://i.guim.co.uk/img/media/19d8d9a2a036afa48f881e1fcae1e610022e5b70/0_101_3500_2101/master/3500.jpg?width=445&quality=85&auto=format&fit=max&s=c1d10eb747a3ac0174dad033579690b1″,»width»:445},{«src»:»https://i.guim.co.uk/img/media/19d8d9a2a036afa48f881e1fcae1e610022e5b70/0_101_3500_2101/master/3500.jpg?width=445&quality=45&auto=format&fit=max&dpr=2&s=dbc5a3836f0d7d53fb6ca4cb1e4a2cd9″,»width»:890}]},{«weighting»:»halfwidth»,»srcSet»:[{«src»:»https://i.guim.co.uk/img/media/19d8d9a2a036afa48f881e1fcae1e610022e5b70/0_101_3500_2101/master/3500.jpg?width=620&quality=85&auto=format&fit=max&s=ebc4e48cdc2966e43b0a47c15893e7fe»,»width»:620},{«src»:»https://i.guim.co.uk/img/media/19d8d9a2a036afa48f881e1fcae1e610022e5b70/0_101_3500_2101/master/3500.jpg?width=620&quality=45&auto=format&fit=max&dpr=2&s=a70663e89bb9d04e1dd25cbe719271c3″,»width»:1240},{«src»:»https://i.guim.co.uk/img/media/19d8d9a2a036afa48f881e1fcae1e610022e5b70/0_101_3500_2101/master/3500.jpg?width=605&quality=85&auto=format&fit=max&s=ae5147bd61d30be451828a7b7e0a2600″,»width»:605},{«src»:»https://i.guim.co.uk/img/media/19d8d9a2a036afa48f881e1fcae1e610022e5b70/0_101_3500_2101/master/3500.jpg?width=605&quality=45&auto=format&fit=max&dpr=2&s=8d80179f3451f0469e1a652b972c5b33″,»width»:1210},{«src»:»https://i.guim.co.uk/img/media/19d8d9a2a036afa48f881e1fcae1e610022e5b70/0_101_3500_2101/master/3500.jpg?width=445&quality=85&auto=format&fit=max&s=c1d10eb747a3ac0174dad033579690b1″,»width»:445},{«src»:»https://i.guim.co.uk/img/media/19d8d9a2a036afa48f881e1fcae1e610022e5b70/0_101_3500_2101/master/3500.jpg?width=445&quality=45&auto=format&fit=max&dpr=2&s=dbc5a3836f0d7d53fb6ca4cb1e4a2cd9″,»width»:890}]},{«weighting»:»immersive»,»srcSet»:[{«src»:»https://i.guim.co.uk/img/media/19d8d9a2a036afa48f881e1fcae1e610022e5b70/0_101_3500_2101/master/3500.jpg?width=1900&quality=85&auto=format&fit=max&s=7d80819c09d108c7cf122f82b053512e»,»width»:1900},{«src»:»https://i.guim.co.uk/img/media/19d8d9a2a036afa48f881e1fcae1e610022e5b70/0_101_3500_2101/master/3500.jpg?width=1900&quality=45&auto=format&fit=max&dpr=2&s=eabfee88cc73db6e1ad627cb92ab8ac5″,»width»:3800},{«src»:»https://i.guim.co.uk/img/media/19d8d9a2a036afa48f881e1fcae1e610022e5b70/0_101_3500_2101/master/3500.jpg?width=1300&quality=85&auto=format&fit=max&s=263a84c8d4049f91729b3877f43be7c4″,»width»:1300},{«src»:»https://i.guim.co.uk/img/media/19d8d9a2a036afa48f881e1fcae1e610022e5b70/0_101_3500_2101/master/3500.jpg?width=1300&quality=45&auto=format&fit=max&dpr=2&s=8ae358e664e867aaa78fefffe8865786″,»width»:2600},{«src»:»https://i.guim.co.uk/img/media/19d8d9a2a036afa48f881e1fcae1e610022e5b70/0_101_3500_2101/master/3500.jpg?width=1140&quality=85&auto=format&fit=max&s=c6619ae3e886cb59f2aabe30fe18bb16″,»width»:1140},{«src»:»https://i.guim.co.uk/img/media/19d8d9a2a036afa48f881e1fcae1e610022e5b70/0_101_3500_2101/master/3500.jpg?width=1140&quality=45&auto=format&fit=max&dpr=2&s=3d7703344b7c99c04a943e863a8608ef»,»width»:2280},{«src»:»https://i.guim.co.uk/img/media/19d8d9a2a036afa48f881e1fcae1e610022e5b70/0_101_3500_2101/master/3500.jpg?width=980&quality=85&auto=format&fit=max&s=77c73598774404e5d87ae642eceaefc1″,»width»:980},{«src»:»https://i.guim.co.uk/img/media/19d8d9a2a036afa48f881e1fcae1e610022e5b70/0_101_3500_2101/master/3500.jpg?width=980&quality=45&auto=format&fit=max&dpr=2&s=51125a044c703815ac569adb7d7ab646″,»width»:1960},{«src»:»https://i.guim.co.uk/img/media/19d8d9a2a036afa48f881e1fcae1e610022e5b70/0_101_3500_2101/master/3500.jpg?width=740&quality=85&auto=format&fit=max&s=a60a2923bc404575510df66c33ef219c»,»width»:740},{«src»:»https://i.guim.co.uk/img/media/19d8d9a2a036afa48f881e1fcae1e610022e5b70/0_101_3500_2101/master/3500.jpg?width=740&quality=45&auto=format&fit=max&dpr=2&s=a39e725b46fd66d14536c83c0f8decab»,»width»:1480},{«src»:»https://i.guim.co.uk/img/media/19d8d9a2a036afa48f881e1fcae1e610022e5b70/0_101_3500_2101/master/3500.jpg?width=660&quality=85&auto=format&fit=max&s=2817af9c6e51ac688ac9453fec9fcc5f»,»width»:660},{«src»:»https://i.guim.co.uk/img/media/19d8d9a2a036afa48f881e1fcae1e610022e5b70/0_101_3500_2101/master/3500.jpg?width=660&quality=45&auto=format&fit=max&dpr=2&s=0198ad74d553f7939ff0bf1db427c216″,»width»:1320},{«src»:»https://i.guim.co.uk/img/media/19d8d9a2a036afa48f881e1fcae1e610022e5b70/0_101_3500_2101/master/3500.jpg?width=480&quality=85&auto=format&fit=max&s=504006889e453667f397833e6bf42cbb»,»width»:480},{«src»:»https://i.guim.co.uk/img/media/19d8d9a2a036afa48f881e1fcae1e610022e5b70/0_101_3500_2101/master/3500.jpg?width=480&quality=45&auto=format&fit=max&dpr=2&s=478b712e1f20292dbf55e16e6e9c7f58″,»width»:960}]}],»elementId»:»3ffc5297-03b0-4a9c-9ade-16a6b6d3c3af»},{«_type»:»mannequin.dotcomrendering.pageElements.ImageBlockElement»,»media»:{«allImages»:[{«index»:0,»fields»:{«height»:»1491″,»width»:»2485″},»mediaType»:»Image»,»mimeType»:»image/jpeg»,»url»:»https://media.guim.co.uk/841c5624c44e648240246daf0c3c293130ca8e22/0_100_2485_1491/2485.jpg»},{«index»:1,»fields»:{«isMaster»:»true»,»height»:»1491″,»width»:»2485″},»mediaType»:»Image»,»mimeType»:»image/jpeg»,»url»:»https://media.guim.co.uk/841c5624c44e648240246daf0c3c293130ca8e22/0_100_2485_1491/master/2485.jpg»},{«index»:2,»fields»:{«height»:»1200″,»width»:»2000″},»mediaType»:»Image»,»mimeType»:»image/jpeg»,»url»:»https://media.guim.co.uk/841c5624c44e648240246daf0c3c293130ca8e22/0_100_2485_1491/2000.jpg»},{«index»:3,»fields»:{«height»:»600″,»width»:»1000″},»mediaType»:»Image»,»mimeType»:»image/jpeg»,»url»:»https://media.guim.co.uk/841c5624c44e648240246daf0c3c293130ca8e22/0_100_2485_1491/1000.jpg»},{«index»:4,»fields»:{«height»:»300″,»width»:»500″},»mediaType»:»Image»,»mimeType»:»image/jpeg»,»url»:»https://media.guim.co.uk/841c5624c44e648240246daf0c3c293130ca8e22/0_100_2485_1491/500.jpg»},{«index»:5,»fields»:{«height»:»84″,»width»:»140″},»mediaType»:»Image»,»mimeType»:»image/jpeg»,»url»:»https://media.guim.co.uk/841c5624c44e648240246daf0c3c293130ca8e22/0_100_2485_1491/140.jpg»}]},»information»:{«alt»:»Chelsea's Pierre-Emerick Aubameyang celebrates scoring their second purpose»,»caption»:»He loved that one»,»credit score»:»{Photograph}: Alberto Lingria/Reuters»},»displayCredit»:true,»function»:»inline»,»imageSources»:[{«weighting»:»inline»,»srcSet»:[{«src»:»https://i.guim.co.uk/img/media/841c5624c44e648240246daf0c3c293130ca8e22/0_100_2485_1491/master/2485.jpg?width=620&quality=85&auto=format&fit=max&s=a1868d034ae9589e1bacb61dd9977f1b»,»width»:620},{«src»:»https://i.guim.co.uk/img/media/841c5624c44e648240246daf0c3c293130ca8e22/0_100_2485_1491/master/2485.jpg?width=620&quality=45&auto=format&fit=max&dpr=2&s=1a9b60065e6b8be136fa13deeaffed67″,»width»:1240},{«src»:»https://i.guim.co.uk/img/media/841c5624c44e648240246daf0c3c293130ca8e22/0_100_2485_1491/master/2485.jpg?width=605&quality=85&auto=format&fit=max&s=3d78ab62f787e40096196938392dbe5b»,»width»:605},{«src»:»https://i.guim.co.uk/img/media/841c5624c44e648240246daf0c3c293130ca8e22/0_100_2485_1491/master/2485.jpg?width=605&quality=45&auto=format&fit=max&dpr=2&s=967f13aaa5c61f6974234cd2a1a7eeeb»,»width»:1210},{«src»:»https://i.guim.co.uk/img/media/841c5624c44e648240246daf0c3c293130ca8e22/0_100_2485_1491/master/2485.jpg?width=445&quality=85&auto=format&fit=max&s=c0121af15d775f252a6c215a0dd84c85″,»width»:445},{«src»:»https://i.guim.co.uk/img/media/841c5624c44e648240246daf0c3c293130ca8e22/0_100_2485_1491/master/2485.jpg?width=445&quality=45&auto=format&fit=max&dpr=2&s=1fceba73e752641c13b788f8ab797f15″,»width»:890}]},{«weighting»:»thumbnail»,»srcSet»:[{«src»:»https://i.guim.co.uk/img/media/841c5624c44e648240246daf0c3c293130ca8e22/0_100_2485_1491/master/2485.jpg?width=140&quality=85&auto=format&fit=max&s=97806357bad2485883a3f5d0fc716368″,»width»:140},{«src»:»https://i.guim.co.uk/img/media/841c5624c44e648240246daf0c3c293130ca8e22/0_100_2485_1491/master/2485.jpg?width=140&quality=45&auto=format&fit=max&dpr=2&s=7fb8773efcef2082b16b32fe3f69c8cf»,»width»:280},{«src»:»https://i.guim.co.uk/img/media/841c5624c44e648240246daf0c3c293130ca8e22/0_100_2485_1491/master/2485.jpg?width=120&quality=85&auto=format&fit=max&s=a728e78d3ecbb5dd3ff491e85b492f11″,»width»:120},{«src»:»https://i.guim.co.uk/img/media/841c5624c44e648240246daf0c3c293130ca8e22/0_100_2485_1491/master/2485.jpg?width=120&quality=45&auto=format&fit=max&dpr=2&s=6a96e7f55f22d8e27b04b36d08edba07″,»width»:240}]},{«weighting»:»supporting»,»srcSet»:[{«src»:»https://i.guim.co.uk/img/media/841c5624c44e648240246daf0c3c293130ca8e22/0_100_2485_1491/master/2485.jpg?width=380&quality=85&auto=format&fit=max&s=ea928e6914c2743405ff3c83c3f9b28c»,»width»:380},{«src»:»https://i.guim.co.uk/img/media/841c5624c44e648240246daf0c3c293130ca8e22/0_100_2485_1491/master/2485.jpg?width=380&quality=45&auto=format&fit=max&dpr=2&s=41a23b67c9be1288a83dd12001b7f50d»,»width»:760},{«src»:»https://i.guim.co.uk/img/media/841c5624c44e648240246daf0c3c293130ca8e22/0_100_2485_1491/master/2485.jpg?width=300&quality=85&auto=format&fit=max&s=d1e614359a9aecdde4fe4abb0dd55c45″,»width»:300},{«src»:»https://i.guim.co.uk/img/media/841c5624c44e648240246daf0c3c293130ca8e22/0_100_2485_1491/master/2485.jpg?width=300&quality=45&auto=format&fit=max&dpr=2&s=073241ef271744be3f61470d22dd1495″,»width»:600},{«src»:»https://i.guim.co.uk/img/media/841c5624c44e648240246daf0c3c293130ca8e22/0_100_2485_1491/master/2485.jpg?width=620&quality=85&auto=format&fit=max&s=a1868d034ae9589e1bacb61dd9977f1b»,»width»:620},{«src»:»https://i.guim.co.uk/img/media/841c5624c44e648240246daf0c3c293130ca8e22/0_100_2485_1491/master/2485.jpg?width=620&quality=45&auto=format&fit=max&dpr=2&s=1a9b60065e6b8be136fa13deeaffed67″,»width»:1240},{«src»:»https://i.guim.co.uk/img/media/841c5624c44e648240246daf0c3c293130ca8e22/0_100_2485_1491/master/2485.jpg?width=605&quality=85&auto=format&fit=max&s=3d78ab62f787e40096196938392dbe5b»,»width»:605},{«src»:»https://i.guim.co.uk/img/media/841c5624c44e648240246daf0c3c293130ca8e22/0_100_2485_1491/master/2485.jpg?width=605&quality=45&auto=format&fit=max&dpr=2&s=967f13aaa5c61f6974234cd2a1a7eeeb»,»width»:1210},{«src»:»https://i.guim.co.uk/img/media/841c5624c44e648240246daf0c3c293130ca8e22/0_100_2485_1491/master/2485.jpg?width=445&quality=85&auto=format&fit=max&s=c0121af15d775f252a6c215a0dd84c85″,»width»:445},{«src»:»https://i.guim.co.uk/img/media/841c5624c44e648240246daf0c3c293130ca8e22/0_100_2485_1491/master/2485.jpg?width=445&quality=45&auto=format&fit=max&dpr=2&s=1fceba73e752641c13b788f8ab797f15″,»width»:890}]},{«weighting»:»showcase»,»srcSet»:[{«src»:»https://i.guim.co.uk/img/media/841c5624c44e648240246daf0c3c293130ca8e22/0_100_2485_1491/master/2485.jpg?width=860&quality=85&auto=format&fit=max&s=021fed8b63cf0f6b1bc57f3c791bb977″,»width»:860},{«src»:»https://i.guim.co.uk/img/media/841c5624c44e648240246daf0c3c293130ca8e22/0_100_2485_1491/master/2485.jpg?width=860&quality=45&auto=format&fit=max&dpr=2&s=afd8f26e8b08220389be20c7246138c0″,»width»:1720},{«src»:»https://i.guim.co.uk/img/media/841c5624c44e648240246daf0c3c293130ca8e22/0_100_2485_1491/master/2485.jpg?width=780&quality=85&auto=format&fit=max&s=9eab9fe7dfddd6628c09806a307e9ac9″,»width»:780},{«src»:»https://i.guim.co.uk/img/media/841c5624c44e648240246daf0c3c293130ca8e22/0_100_2485_1491/master/2485.jpg?width=780&quality=45&auto=format&fit=max&dpr=2&s=bbb047310db1c948e06032e7402c0b9d»,»width»:1560},{«src»:»https://i.guim.co.uk/img/media/841c5624c44e648240246daf0c3c293130ca8e22/0_100_2485_1491/master/2485.jpg?width=620&quality=85&auto=format&fit=max&s=a1868d034ae9589e1bacb61dd9977f1b»,»width»:620},{«src»:»https://i.guim.co.uk/img/media/841c5624c44e648240246daf0c3c293130ca8e22/0_100_2485_1491/master/2485.jpg?width=620&quality=45&auto=format&fit=max&dpr=2&s=1a9b60065e6b8be136fa13deeaffed67″,»width»:1240},{«src»:»https://i.guim.co.uk/img/media/841c5624c44e648240246daf0c3c293130ca8e22/0_100_2485_1491/master/2485.jpg?width=605&quality=85&auto=format&fit=max&s=3d78ab62f787e40096196938392dbe5b»,»width»:605},{«src»:»https://i.guim.co.uk/img/media/841c5624c44e648240246daf0c3c293130ca8e22/0_100_2485_1491/master/2485.jpg?width=605&quality=45&auto=format&fit=max&dpr=2&s=967f13aaa5c61f6974234cd2a1a7eeeb»,»width»:1210},{«src»:»https://i.guim.co.uk/img/media/841c5624c44e648240246daf0c3c293130ca8e22/0_100_2485_1491/master/2485.jpg?width=445&quality=85&auto=format&fit=max&s=c0121af15d775f252a6c215a0dd84c85″,»width»:445},{«src»:»https://i.guim.co.uk/img/media/841c5624c44e648240246daf0c3c293130ca8e22/0_100_2485_1491/master/2485.jpg?width=445&quality=45&auto=format&fit=max&dpr=2&s=1fceba73e752641c13b788f8ab797f15″,»width»:890}]},{«weighting»:»halfwidth»,»srcSet»:[{«src»:»https://i.guim.co.uk/img/media/841c5624c44e648240246daf0c3c293130ca8e22/0_100_2485_1491/master/2485.jpg?width=620&quality=85&auto=format&fit=max&s=a1868d034ae9589e1bacb61dd9977f1b»,»width»:620},{«src»:»https://i.guim.co.uk/img/media/841c5624c44e648240246daf0c3c293130ca8e22/0_100_2485_1491/master/2485.jpg?width=620&quality=45&auto=format&fit=max&dpr=2&s=1a9b60065e6b8be136fa13deeaffed67″,»width»:1240},{«src»:»https://i.guim.co.uk/img/media/841c5624c44e648240246daf0c3c293130ca8e22/0_100_2485_1491/master/2485.jpg?width=605&quality=85&auto=format&fit=max&s=3d78ab62f787e40096196938392dbe5b»,»width»:605},{«src»:»https://i.guim.co.uk/img/media/841c5624c44e648240246daf0c3c293130ca8e22/0_100_2485_1491/master/2485.jpg?width=605&quality=45&auto=format&fit=max&dpr=2&s=967f13aaa5c61f6974234cd2a1a7eeeb»,»width»:1210},{«src»:»https://i.guim.co.uk/img/media/841c5624c44e648240246daf0c3c293130ca8e22/0_100_2485_1491/master/2485.jpg?width=445&quality=85&auto=format&fit=max&s=c0121af15d775f252a6c215a0dd84c85″,»width»:445},{«src»:»https://i.guim.co.uk/img/media/841c5624c44e648240246daf0c3c293130ca8e22/0_100_2485_1491/master/2485.jpg?width=445&quality=45&auto=format&fit=max&dpr=2&s=1fceba73e752641c13b788f8ab797f15″,»width»:890}]},{«weighting»:»immersive»,»srcSet»:[{«src»:»https://i.guim.co.uk/img/media/841c5624c44e648240246daf0c3c293130ca8e22/0_100_2485_1491/master/2485.jpg?width=1900&quality=85&auto=format&fit=max&s=7570b4b2b33e835abee0b1ebba0924a8″,»width»:1900},{«src»:»https://i.guim.co.uk/img/media/841c5624c44e648240246daf0c3c293130ca8e22/0_100_2485_1491/master/2485.jpg?width=1900&quality=45&auto=format&fit=max&dpr=2&s=a4200875e7629b824aa4bd6a2a1e4c46″,»width»:3800},{«src»:»https://i.guim.co.uk/img/media/841c5624c44e648240246daf0c3c293130ca8e22/0_100_2485_1491/master/2485.jpg?width=1300&quality=85&auto=format&fit=max&s=82c30be65c266a9dac50487c16469bd0″,»width»:1300},{«src»:»https://i.guim.co.uk/img/media/841c5624c44e648240246daf0c3c293130ca8e22/0_100_2485_1491/master/2485.jpg?width=1300&quality=45&auto=format&fit=max&dpr=2&s=a4bc686028f8eb5622997d6cb9820291″,»width»:2600},{«src»:»https://i.guim.co.uk/img/media/841c5624c44e648240246daf0c3c293130ca8e22/0_100_2485_1491/master/2485.jpg?width=1140&quality=85&auto=format&fit=max&s=ce37def576d41c8803218fd39ff0c959″,»width»:1140},{«src»:»https://i.guim.co.uk/img/media/841c5624c44e648240246daf0c3c293130ca8e22/0_100_2485_1491/master/2485.jpg?width=1140&quality=45&auto=format&fit=max&dpr=2&s=e55b71a918b35f1eab455937e5738030″,»width»:2280},{«src»:»https://i.guim.co.uk/img/media/841c5624c44e648240246daf0c3c293130ca8e22/0_100_2485_1491/master/2485.jpg?width=980&quality=85&auto=format&fit=max&s=0b5302cfaf64adbf721d43dd4b809ec2″,»width»:980},{«src»:»https://i.guim.co.uk/img/media/841c5624c44e648240246daf0c3c293130ca8e22/0_100_2485_1491/master/2485.jpg?width=980&quality=45&auto=format&fit=max&dpr=2&s=f13ea06ef6af27e77e6d7908e57ceb8d»,»width»:1960},{«src»:»https://i.guim.co.uk/img/media/841c5624c44e648240246daf0c3c293130ca8e22/0_100_2485_1491/master/2485.jpg?width=740&quality=85&auto=format&fit=max&s=3e360ad61cd5533a456debda9cb63dd9″,»width»:740},{«src»:»https://i.guim.co.uk/img/media/841c5624c44e648240246daf0c3c293130ca8e22/0_100_2485_1491/master/2485.jpg?width=740&quality=45&auto=format&fit=max&dpr=2&s=9c6ab4083c211eb959b42f1e8d7bea89″,»width»:1480},{«src»:»https://i.guim.co.uk/img/media/841c5624c44e648240246daf0c3c293130ca8e22/0_100_2485_1491/master/2485.jpg?width=660&quality=85&auto=format&fit=max&s=e66ee2ec0d976c3dadcb8950e98066cb»,»width»:660},{«src»:»https://i.guim.co.uk/img/media/841c5624c44e648240246daf0c3c293130ca8e22/0_100_2485_1491/master/2485.jpg?width=660&quality=45&auto=format&fit=max&dpr=2&s=502bf7bc3e4b40ca336416e7f443f13c»,»width»:1320},{«src»:»https://i.guim.co.uk/img/media/841c5624c44e648240246daf0c3c293130ca8e22/0_100_2485_1491/master/2485.jpg?width=480&quality=85&auto=format&fit=max&s=d1d2ac47002ff0e61c1780b6b0341aa0″,»width»:480},{«src»:»https://i.guim.co.uk/img/media/841c5624c44e648240246daf0c3c293130ca8e22/0_100_2485_1491/master/2485.jpg?width=480&quality=45&auto=format&fit=max&dpr=2&s=d5f0f39ead86aab056477e3865daeb76″,»width»:960}]}],»elementId»:»afdf039a-b87f-4ace-90cd-2a4ea065fd61″}],»attributes»:{«pinned»:false,»keyEvent»:true,»abstract»:false},»blockCreatedOn»:1665516875000,»blockCreatedOnDisplay»:»15.34 EDT»,»blockLastUpdated»:1665518623000,»blockLastUpdatedDisplay»:»16.03 EDT»,»blockFirstPublished»:1665516969000,»blockFirstPublishedDisplay»:»15.36 EDT»,»blockFirstPublishedDisplayNoTimezone»:»15.36″,»title»:»GOAL! Milan 0-2 Chelsea (Aubameyang 34)»,»contributors»:[],»primaryDateLine»:»Tue 11 Oct 2022 17.24 EDT»,»secondaryDateLine»:»First revealed on Tue 11 Oct 2022 14.00 EDT»},{«id»:»6345c2458f08253e9d65942d»,»parts»:[{«_type»:»model.dotcomrendering.pageElements.TextBlockElement»,»html»:»

Jorginho calmly rolls the penalty into the bottom left. Tătăruşanu, having been given the eyes, goes the wrong way. Chelsea lead!

«,»elementId»:»bb68d052-113f-42f9-9da5-17772e1b103e»},{«_type»:»model.dotcomrendering.pageElements.ImageBlockElement»,»media»:{«allImages»:[{«index»:0,»fields»:{«height»:»2201″,»width»:»3668″},»mediaType»:»Image»,»mimeType»:»image/jpeg»,»url»:»https://media.guim.co.uk/eec166406a7e73742030a8b18860aec8949e0c2a/0_153_3668_2201/3668.jpg»},{«index»:1,»fields»:{«isMaster»:»true»,»height»:»2201″,»width»:»3668″},»mediaType»:»Image»,»mimeType»:»image/jpeg»,»url»:»https://media.guim.co.uk/eec166406a7e73742030a8b18860aec8949e0c2a/0_153_3668_2201/master/3668.jpg»},{«index»:2,»fields»:{«height»:»1200″,»width»:»2000″},»mediaType»:»Image»,»mimeType»:»image/jpeg»,»url»:»https://media.guim.co.uk/eec166406a7e73742030a8b18860aec8949e0c2a/0_153_3668_2201/2000.jpg»},{«index»:3,»fields»:{«height»:»600″,»width»:»1000″},»mediaType»:»Image»,»mimeType»:»image/jpeg»,»url»:»https://media.guim.co.uk/eec166406a7e73742030a8b18860aec8949e0c2a/0_153_3668_2201/1000.jpg»},{«index»:4,»fields»:{«height»:»300″,»width»:»500″},»mediaType»:»Image»,»mimeType»:»image/jpeg»,»url»:»https://media.guim.co.uk/eec166406a7e73742030a8b18860aec8949e0c2a/0_153_3668_2201/500.jpg»},{«index»:5,»fields»:{«height»:»84″,»width»:»140″},»mediaType»:»Image»,»mimeType»:»image/jpeg»,»url»:»https://media.guim.co.uk/eec166406a7e73742030a8b18860aec8949e0c2a/0_153_3668_2201/140.jpg»}]},»information»:{«alt»:»Jorginho shoots and scores a penalty kick»,»caption»:» Jorginho shoots and scores a penalty kick «,»credit score»:»{Photograph}: Alberto Pizzoli/AFP/Getty Photographs»},»displayCredit»:true,»function»:»inline»,»imageSources»:[{«weighting»:»inline»,»srcSet»:[{«src»:»https://i.guim.co.uk/img/media/eec166406a7e73742030a8b18860aec8949e0c2a/0_153_3668_2201/master/3668.jpg?width=620&quality=85&auto=format&fit=max&s=3365eb5ab0da33fbad1f5f259967063e»,»width»:620},{«src»:»https://i.guim.co.uk/img/media/eec166406a7e73742030a8b18860aec8949e0c2a/0_153_3668_2201/master/3668.jpg?width=620&quality=45&auto=format&fit=max&dpr=2&s=774005f137fade0b0dddb2736424e304″,»width»:1240},{«src»:»https://i.guim.co.uk/img/media/eec166406a7e73742030a8b18860aec8949e0c2a/0_153_3668_2201/master/3668.jpg?width=605&quality=85&auto=format&fit=max&s=0e2ad52d9d968880632c417d943b6f1a»,»width»:605},{«src»:»https://i.guim.co.uk/img/media/eec166406a7e73742030a8b18860aec8949e0c2a/0_153_3668_2201/master/3668.jpg?width=605&quality=45&auto=format&fit=max&dpr=2&s=09bd6bd8634458d26f514199320a71ad»,»width»:1210},{«src»:»https://i.guim.co.uk/img/media/eec166406a7e73742030a8b18860aec8949e0c2a/0_153_3668_2201/master/3668.jpg?width=445&quality=85&auto=format&fit=max&s=89e96c92880aeae145c31246590877eb»,»width»:445},{«src»:»https://i.guim.co.uk/img/media/eec166406a7e73742030a8b18860aec8949e0c2a/0_153_3668_2201/master/3668.jpg?width=445&quality=45&auto=format&fit=max&dpr=2&s=51b9b3b3830acdf91215c29f0d1263b3″,»width»:890}]},{«weighting»:»thumbnail»,»srcSet»:[{«src»:»https://i.guim.co.uk/img/media/eec166406a7e73742030a8b18860aec8949e0c2a/0_153_3668_2201/master/3668.jpg?width=140&quality=85&auto=format&fit=max&s=3a9c7ef33604dbdf2fc63cf2afb8af9e»,»width»:140},{«src»:»https://i.guim.co.uk/img/media/eec166406a7e73742030a8b18860aec8949e0c2a/0_153_3668_2201/master/3668.jpg?width=140&quality=45&auto=format&fit=max&dpr=2&s=dac01b06c68fc17b72f4e836ff884dc0″,»width»:280},{«src»:»https://i.guim.co.uk/img/media/eec166406a7e73742030a8b18860aec8949e0c2a/0_153_3668_2201/master/3668.jpg?width=120&quality=85&auto=format&fit=max&s=4571f42fdc91421e42aafb3f3e077439″,»width»:120},{«src»:»https://i.guim.co.uk/img/media/eec166406a7e73742030a8b18860aec8949e0c2a/0_153_3668_2201/master/3668.jpg?width=120&quality=45&auto=format&fit=max&dpr=2&s=eeb7c5f33a2c0934fb6e31d36d29aa6b»,»width»:240}]},{«weighting»:»supporting»,»srcSet»:[{«src»:»https://i.guim.co.uk/img/media/eec166406a7e73742030a8b18860aec8949e0c2a/0_153_3668_2201/master/3668.jpg?width=380&quality=85&auto=format&fit=max&s=3c400fb70e2b40d6f96edcf043717ec2″,»width»:380},{«src»:»https://i.guim.co.uk/img/media/eec166406a7e73742030a8b18860aec8949e0c2a/0_153_3668_2201/master/3668.jpg?width=380&quality=45&auto=format&fit=max&dpr=2&s=42a2c41c97b792f030df1a45d91dbae6″,»width»:760},{«src»:»https://i.guim.co.uk/img/media/eec166406a7e73742030a8b18860aec8949e0c2a/0_153_3668_2201/master/3668.jpg?width=300&quality=85&auto=format&fit=max&s=fbf860cf3f8ebf01c2afec495e48769c»,»width»:300},{«src»:»https://i.guim.co.uk/img/media/eec166406a7e73742030a8b18860aec8949e0c2a/0_153_3668_2201/master/3668.jpg?width=300&quality=45&auto=format&fit=max&dpr=2&s=d0cdfd1108bd4a57ef91d12495b7c486″,»width»:600},{«src»:»https://i.guim.co.uk/img/media/eec166406a7e73742030a8b18860aec8949e0c2a/0_153_3668_2201/master/3668.jpg?width=620&quality=85&auto=format&fit=max&s=3365eb5ab0da33fbad1f5f259967063e»,»width»:620},{«src»:»https://i.guim.co.uk/img/media/eec166406a7e73742030a8b18860aec8949e0c2a/0_153_3668_2201/master/3668.jpg?width=620&quality=45&auto=format&fit=max&dpr=2&s=774005f137fade0b0dddb2736424e304″,»width»:1240},{«src»:»https://i.guim.co.uk/img/media/eec166406a7e73742030a8b18860aec8949e0c2a/0_153_3668_2201/master/3668.jpg?width=605&quality=85&auto=format&fit=max&s=0e2ad52d9d968880632c417d943b6f1a»,»width»:605},{«src»:»https://i.guim.co.uk/img/media/eec166406a7e73742030a8b18860aec8949e0c2a/0_153_3668_2201/master/3668.jpg?width=605&quality=45&auto=format&fit=max&dpr=2&s=09bd6bd8634458d26f514199320a71ad»,»width»:1210},{«src»:»https://i.guim.co.uk/img/media/eec166406a7e73742030a8b18860aec8949e0c2a/0_153_3668_2201/master/3668.jpg?width=445&quality=85&auto=format&fit=max&s=89e96c92880aeae145c31246590877eb»,»width»:445},{«src»:»https://i.guim.co.uk/img/media/eec166406a7e73742030a8b18860aec8949e0c2a/0_153_3668_2201/master/3668.jpg?width=445&quality=45&auto=format&fit=max&dpr=2&s=51b9b3b3830acdf91215c29f0d1263b3″,»width»:890}]},{«weighting»:»showcase»,»srcSet»:[{«src»:»https://i.guim.co.uk/img/media/eec166406a7e73742030a8b18860aec8949e0c2a/0_153_3668_2201/master/3668.jpg?width=860&quality=85&auto=format&fit=max&s=7fc42f7c44d462524326bd6c463649ff»,»width»:860},{«src»:»https://i.guim.co.uk/img/media/eec166406a7e73742030a8b18860aec8949e0c2a/0_153_3668_2201/master/3668.jpg?width=860&quality=45&auto=format&fit=max&dpr=2&s=3f93082b3c5b2007f80defb05ee9a8b2″,»width»:1720},{«src»:»https://i.guim.co.uk/img/media/eec166406a7e73742030a8b18860aec8949e0c2a/0_153_3668_2201/master/3668.jpg?width=780&quality=85&auto=format&fit=max&s=fe54d53696cb0d72598a3a6b8fc5911d»,»width»:780},{«src»:»https://i.guim.co.uk/img/media/eec166406a7e73742030a8b18860aec8949e0c2a/0_153_3668_2201/master/3668.jpg?width=780&quality=45&auto=format&fit=max&dpr=2&s=e892c9dd9d5c296a926d35f849c99cd6″,»width»:1560},{«src»:»https://i.guim.co.uk/img/media/eec166406a7e73742030a8b18860aec8949e0c2a/0_153_3668_2201/master/3668.jpg?width=620&quality=85&auto=format&fit=max&s=3365eb5ab0da33fbad1f5f259967063e»,»width»:620},{«src»:»https://i.guim.co.uk/img/media/eec166406a7e73742030a8b18860aec8949e0c2a/0_153_3668_2201/master/3668.jpg?width=620&quality=45&auto=format&fit=max&dpr=2&s=774005f137fade0b0dddb2736424e304″,»width»:1240},{«src»:»https://i.guim.co.uk/img/media/eec166406a7e73742030a8b18860aec8949e0c2a/0_153_3668_2201/master/3668.jpg?width=605&quality=85&auto=format&fit=max&s=0e2ad52d9d968880632c417d943b6f1a»,»width»:605},{«src»:»https://i.guim.co.uk/img/media/eec166406a7e73742030a8b18860aec8949e0c2a/0_153_3668_2201/master/3668.jpg?width=605&quality=45&auto=format&fit=max&dpr=2&s=09bd6bd8634458d26f514199320a71ad»,»width»:1210},{«src»:»https://i.guim.co.uk/img/media/eec166406a7e73742030a8b18860aec8949e0c2a/0_153_3668_2201/master/3668.jpg?width=445&quality=85&auto=format&fit=max&s=89e96c92880aeae145c31246590877eb»,»width»:445},{«src»:»https://i.guim.co.uk/img/media/eec166406a7e73742030a8b18860aec8949e0c2a/0_153_3668_2201/master/3668.jpg?width=445&quality=45&auto=format&fit=max&dpr=2&s=51b9b3b3830acdf91215c29f0d1263b3″,»width»:890}]},{«weighting»:»halfwidth»,»srcSet»:[{«src»:»https://i.guim.co.uk/img/media/eec166406a7e73742030a8b18860aec8949e0c2a/0_153_3668_2201/master/3668.jpg?width=620&quality=85&auto=format&fit=max&s=3365eb5ab0da33fbad1f5f259967063e»,»width»:620},{«src»:»https://i.guim.co.uk/img/media/eec166406a7e73742030a8b18860aec8949e0c2a/0_153_3668_2201/master/3668.jpg?width=620&quality=45&auto=format&fit=max&dpr=2&s=774005f137fade0b0dddb2736424e304″,»width»:1240},{«src»:»https://i.guim.co.uk/img/media/eec166406a7e73742030a8b18860aec8949e0c2a/0_153_3668_2201/master/3668.jpg?width=605&quality=85&auto=format&fit=max&s=0e2ad52d9d968880632c417d943b6f1a»,»width»:605},{«src»:»https://i.guim.co.uk/img/media/eec166406a7e73742030a8b18860aec8949e0c2a/0_153_3668_2201/master/3668.jpg?width=605&quality=45&auto=format&fit=max&dpr=2&s=09bd6bd8634458d26f514199320a71ad»,»width»:1210},{«src»:»https://i.guim.co.uk/img/media/eec166406a7e73742030a8b18860aec8949e0c2a/0_153_3668_2201/master/3668.jpg?width=445&quality=85&auto=format&fit=max&s=89e96c92880aeae145c31246590877eb»,»width»:445},{«src»:»https://i.guim.co.uk/img/media/eec166406a7e73742030a8b18860aec8949e0c2a/0_153_3668_2201/master/3668.jpg?width=445&quality=45&auto=format&fit=max&dpr=2&s=51b9b3b3830acdf91215c29f0d1263b3″,»width»:890}]},{«weighting»:»immersive»,»srcSet»:[{«src»:»https://i.guim.co.uk/img/media/eec166406a7e73742030a8b18860aec8949e0c2a/0_153_3668_2201/master/3668.jpg?width=1900&quality=85&auto=format&fit=max&s=00c508c8380794cb7a4ff2c48b8899c0″,»width»:1900},{«src»:»https://i.guim.co.uk/img/media/eec166406a7e73742030a8b18860aec8949e0c2a/0_153_3668_2201/master/3668.jpg?width=1900&quality=45&auto=format&fit=max&dpr=2&s=6b637ed169081141ef29e328a8a56d73″,»width»:3800},{«src»:»https://i.guim.co.uk/img/media/eec166406a7e73742030a8b18860aec8949e0c2a/0_153_3668_2201/master/3668.jpg?width=1300&quality=85&auto=format&fit=max&s=97946f6a41e2413943c01683013d9129″,»width»:1300},{«src»:»https://i.guim.co.uk/img/media/eec166406a7e73742030a8b18860aec8949e0c2a/0_153_3668_2201/master/3668.jpg?width=1300&quality=45&auto=format&fit=max&dpr=2&s=ae22915601e1056e24f79f40c1017e97″,»width»:2600},{«src»:»https://i.guim.co.uk/img/media/eec166406a7e73742030a8b18860aec8949e0c2a/0_153_3668_2201/master/3668.jpg?width=1140&quality=85&auto=format&fit=max&s=7cf75eaa82695b05d0569ec73c7a9152″,»width»:1140},{«src»:»https://i.guim.co.uk/img/media/eec166406a7e73742030a8b18860aec8949e0c2a/0_153_3668_2201/master/3668.jpg?width=1140&quality=45&auto=format&fit=max&dpr=2&s=eef26a19c85da4294c74a8e3797b84d7″,»width»:2280},{«src»:»https://i.guim.co.uk/img/media/eec166406a7e73742030a8b18860aec8949e0c2a/0_153_3668_2201/master/3668.jpg?width=980&quality=85&auto=format&fit=max&s=5d97b7979080b9aa0c222e6da51ab04c»,»width»:980},{«src»:»https://i.guim.co.uk/img/media/eec166406a7e73742030a8b18860aec8949e0c2a/0_153_3668_2201/master/3668.jpg?width=980&quality=45&auto=format&fit=max&dpr=2&s=9fa20dea23c76317c514e1baacfcc517″,»width»:1960},{«src»:»https://i.guim.co.uk/img/media/eec166406a7e73742030a8b18860aec8949e0c2a/0_153_3668_2201/master/3668.jpg?width=740&quality=85&auto=format&fit=max&s=39400d2ca42f8640af1a1b6e1b3ae9a9″,»width»:740},{«src»:»https://i.guim.co.uk/img/media/eec166406a7e73742030a8b18860aec8949e0c2a/0_153_3668_2201/master/3668.jpg?width=740&quality=45&auto=format&fit=max&dpr=2&s=9b133a006400c19d42587d9836e3796e»,»width»:1480},{«src»:»https://i.guim.co.uk/img/media/eec166406a7e73742030a8b18860aec8949e0c2a/0_153_3668_2201/master/3668.jpg?width=660&quality=85&auto=format&fit=max&s=674941e585ccc0ba634cdf1ea752c1eb»,»width»:660},{«src»:»https://i.guim.co.uk/img/media/eec166406a7e73742030a8b18860aec8949e0c2a/0_153_3668_2201/master/3668.jpg?width=660&quality=45&auto=format&fit=max&dpr=2&s=009ab3bc1703bceca74234d34151b180″,»width»:1320},{«src»:»https://i.guim.co.uk/img/media/eec166406a7e73742030a8b18860aec8949e0c2a/0_153_3668_2201/master/3668.jpg?width=480&quality=85&auto=format&fit=max&s=154c5a768af5dc366910695389a320aa»,»width»:480},{«src»:»https://i.guim.co.uk/img/media/eec166406a7e73742030a8b18860aec8949e0c2a/0_153_3668_2201/master/3668.jpg?width=480&quality=45&auto=format&fit=max&dpr=2&s=38642894216f3383813312bfb92a9506″,»width»:960}]}],»elementId»:»acdd5e82-22b4-4a7a-8c46-909e4be57d9d»}],»attributes»:{«pinned»:false,»keyEvent»:true,»abstract»:false},»blockCreatedOn»:1665516101000,»blockCreatedOnDisplay»:»15.21 EDT»,»blockLastUpdated»:1665516442000,»blockLastUpdatedDisplay»:»15.27 EDT»,»blockFirstPublished»:1665516167000,»blockFirstPublishedDisplay»:»15.22 EDT»,»blockFirstPublishedDisplayNoTimezone»:»15.22″,»title»:»GOAL! Milan 0-1 Chelsea (Jorginho 21 pen)»,»contributors»:[],»primaryDateLine»:»Tue 11 Oct 2022 17.24 EDT»,»secondaryDateLine»:»First revealed on Tue 11 Oct 2022 14.00 EDT»},{«id»:»6345c19c8f08253e9d659427″,»parts»:[{«_type»:»model.dotcomrendering.pageElements.TextBlockElement»,»html»:»

18 min: Mount bustles into the Milan box down the right. Tomori tugs at his shoulder. Mount stays on his feet and tries to lob Tătăruşanu. The keeper blocks, but the referee points at the spot and flashes red at the former Chelsea defender!

«,»elementId»:»bd0072b1-65da-40c9-a8cb-7abc35aa4719″},{«_type»:»model.dotcomrendering.pageElements.ImageBlockElement»,»media»:{«allImages»:[{«index»:0,»fields»:{«height»:»2600″,»width»:»4332″},»mediaType»:»Image»,»mimeType»:»image/jpeg»,»url»:»https://media.guim.co.uk/8cf8d3911c1c6c82c95e3dc5ceeb71737c0bbe28/0_0_4332_2600/4332.jpg»},{«index»:1,»fields»:{«isMaster»:»true»,»height»:»2600″,»width»:»4332″},»mediaType»:»Image»,»mimeType»:»image/jpeg»,»url»:»https://media.guim.co.uk/8cf8d3911c1c6c82c95e3dc5ceeb71737c0bbe28/0_0_4332_2600/master/4332.jpg»},{«index»:2,»fields»:{«height»:»1200″,»width»:»2000″},»mediaType»:»Image»,»mimeType»:»image/jpeg»,»url»:»https://media.guim.co.uk/8cf8d3911c1c6c82c95e3dc5ceeb71737c0bbe28/0_0_4332_2600/2000.jpg»},{«index»:3,»fields»:{«height»:»600″,»width»:»1000″},»mediaType»:»Image»,»mimeType»:»image/jpeg»,»url»:»https://media.guim.co.uk/8cf8d3911c1c6c82c95e3dc5ceeb71737c0bbe28/0_0_4332_2600/1000.jpg»},{«index»:4,»fields»:{«height»:»300″,»width»:»500″},»mediaType»:»Image»,»mimeType»:»image/jpeg»,»url»:»https://media.guim.co.uk/8cf8d3911c1c6c82c95e3dc5ceeb71737c0bbe28/0_0_4332_2600/500.jpg»},{«index»:5,»fields»:{«height»:»84″,»width»:»140″},»mediaType»:»Image»,»mimeType»:»image/jpeg»,»url»:»https://media.guim.co.uk/8cf8d3911c1c6c82c95e3dc5ceeb71737c0bbe28/0_0_4332_2600/140.jpg»}]},»information»:{«alt»:»AC Milan defender Fikayo Tomori fights for the ball with Mason Mount and offers away a mushy penalty and sees a purple card.»,»caption»:»AC Milan defender Fikayo Tomori fights for the ball with Mason Mount and offers away a mushy penalty and sees a purple card. «,»credit score»:»{Photograph}: Alberto Pizzoli/AFP/Getty Photographs»},»displayCredit»:true,»function»:»inline»,»imageSources»:[{«weighting»:»inline»,»srcSet»:[{«src»:»https://i.guim.co.uk/img/media/8cf8d3911c1c6c82c95e3dc5ceeb71737c0bbe28/0_0_4332_2600/master/4332.jpg?width=620&quality=85&auto=format&fit=max&s=2a3a359d371f49a19b4c586688038963″,»width»:620},{«src»:»https://i.guim.co.uk/img/media/8cf8d3911c1c6c82c95e3dc5ceeb71737c0bbe28/0_0_4332_2600/master/4332.jpg?width=620&quality=45&auto=format&fit=max&dpr=2&s=9f0aec60989afbe1bb2bf1e9df7d71ba»,»width»:1240},{«src»:»https://i.guim.co.uk/img/media/8cf8d3911c1c6c82c95e3dc5ceeb71737c0bbe28/0_0_4332_2600/master/4332.jpg?width=605&quality=85&auto=format&fit=max&s=df42bca7ff87375c10394210f87dc6f9″,»width»:605},{«src»:»https://i.guim.co.uk/img/media/8cf8d3911c1c6c82c95e3dc5ceeb71737c0bbe28/0_0_4332_2600/master/4332.jpg?width=605&quality=45&auto=format&fit=max&dpr=2&s=1e9f116884a4cb38ee3dfd74175b947c»,»width»:1210},{«src»:»https://i.guim.co.uk/img/media/8cf8d3911c1c6c82c95e3dc5ceeb71737c0bbe28/0_0_4332_2600/master/4332.jpg?width=445&quality=85&auto=format&fit=max&s=e2c249a2c3a03657dc56b3710ae2131c»,»width»:445},{«src»:»https://i.guim.co.uk/img/media/8cf8d3911c1c6c82c95e3dc5ceeb71737c0bbe28/0_0_4332_2600/master/4332.jpg?width=445&quality=45&auto=format&fit=max&dpr=2&s=4d4dc15d15144033e448d8b7e42a0609″,»width»:890}]},{«weighting»:»thumbnail»,»srcSet»:[{«src»:»https://i.guim.co.uk/img/media/8cf8d3911c1c6c82c95e3dc5ceeb71737c0bbe28/0_0_4332_2600/master/4332.jpg?width=140&quality=85&auto=format&fit=max&s=41b7f2e46add6d7cd749f2f642a567f3″,»width»:140},{«src»:»https://i.guim.co.uk/img/media/8cf8d3911c1c6c82c95e3dc5ceeb71737c0bbe28/0_0_4332_2600/master/4332.jpg?width=140&quality=45&auto=format&fit=max&dpr=2&s=e2fa9a4ed6fc9ae7268a68da8fd492c5″,»width»:280},{«src»:»https://i.guim.co.uk/img/media/8cf8d3911c1c6c82c95e3dc5ceeb71737c0bbe28/0_0_4332_2600/master/4332.jpg?width=120&quality=85&auto=format&fit=max&s=e3ff89b56d552aec20cf7fc67fbbea78″,»width»:120},{«src»:»https://i.guim.co.uk/img/media/8cf8d3911c1c6c82c95e3dc5ceeb71737c0bbe28/0_0_4332_2600/master/4332.jpg?width=120&quality=45&auto=format&fit=max&dpr=2&s=7fee1ef98ea6cfc0b4d424a4d2b8f175″,»width»:240}]},{«weighting»:»supporting»,»srcSet»:[{«src»:»https://i.guim.co.uk/img/media/8cf8d3911c1c6c82c95e3dc5ceeb71737c0bbe28/0_0_4332_2600/master/4332.jpg?width=380&quality=85&auto=format&fit=max&s=adc2e4353473eab4c7a12450d13d1730″,»width»:380},{«src»:»https://i.guim.co.uk/img/media/8cf8d3911c1c6c82c95e3dc5ceeb71737c0bbe28/0_0_4332_2600/master/4332.jpg?width=380&quality=45&auto=format&fit=max&dpr=2&s=34a17ae66bfe43ec59f41b3b325db362″,»width»:760},{«src»:»https://i.guim.co.uk/img/media/8cf8d3911c1c6c82c95e3dc5ceeb71737c0bbe28/0_0_4332_2600/master/4332.jpg?width=300&quality=85&auto=format&fit=max&s=11f9bea87c7313c5236e65d47b91dda2″,»width»:300},{«src»:»https://i.guim.co.uk/img/media/8cf8d3911c1c6c82c95e3dc5ceeb71737c0bbe28/0_0_4332_2600/master/4332.jpg?width=300&quality=45&auto=format&fit=max&dpr=2&s=a09ce2a3ddf7e8f0f57dd405133b899f»,»width»:600},{«src»:»https://i.guim.co.uk/img/media/8cf8d3911c1c6c82c95e3dc5ceeb71737c0bbe28/0_0_4332_2600/master/4332.jpg?width=620&quality=85&auto=format&fit=max&s=2a3a359d371f49a19b4c586688038963″,»width»:620},{«src»:»https://i.guim.co.uk/img/media/8cf8d3911c1c6c82c95e3dc5ceeb71737c0bbe28/0_0_4332_2600/master/4332.jpg?width=620&quality=45&auto=format&fit=max&dpr=2&s=9f0aec60989afbe1bb2bf1e9df7d71ba»,»width»:1240},{«src»:»https://i.guim.co.uk/img/media/8cf8d3911c1c6c82c95e3dc5ceeb71737c0bbe28/0_0_4332_2600/master/4332.jpg?width=605&quality=85&auto=format&fit=max&s=df42bca7ff87375c10394210f87dc6f9″,»width»:605},{«src»:»https://i.guim.co.uk/img/media/8cf8d3911c1c6c82c95e3dc5ceeb71737c0bbe28/0_0_4332_2600/master/4332.jpg?width=605&quality=45&auto=format&fit=max&dpr=2&s=1e9f116884a4cb38ee3dfd74175b947c»,»width»:1210},{«src»:»https://i.guim.co.uk/img/media/8cf8d3911c1c6c82c95e3dc5ceeb71737c0bbe28/0_0_4332_2600/master/4332.jpg?width=445&quality=85&auto=format&fit=max&s=e2c249a2c3a03657dc56b3710ae2131c»,»width»:445},{«src»:»https://i.guim.co.uk/img/media/8cf8d3911c1c6c82c95e3dc5ceeb71737c0bbe28/0_0_4332_2600/master/4332.jpg?width=445&quality=45&auto=format&fit=max&dpr=2&s=4d4dc15d15144033e448d8b7e42a0609″,»width»:890}]},{«weighting»:»showcase»,»srcSet»:[{«src»:»https://i.guim.co.uk/img/media/8cf8d3911c1c6c82c95e3dc5ceeb71737c0bbe28/0_0_4332_2600/master/4332.jpg?width=860&quality=85&auto=format&fit=max&s=ec4f3a05df1d54cf9fd3589deb609ad4″,»width»:860},{«src»:»https://i.guim.co.uk/img/media/8cf8d3911c1c6c82c95e3dc5ceeb71737c0bbe28/0_0_4332_2600/master/4332.jpg?width=860&quality=45&auto=format&fit=max&dpr=2&s=b98e49cc3e29fd5295058c2493b18c7c»,»width»:1720},{«src»:»https://i.guim.co.uk/img/media/8cf8d3911c1c6c82c95e3dc5ceeb71737c0bbe28/0_0_4332_2600/master/4332.jpg?width=780&quality=85&auto=format&fit=max&s=c3ddaba10fd5508ee7727211d00ca3a6″,»width»:780},{«src»:»https://i.guim.co.uk/img/media/8cf8d3911c1c6c82c95e3dc5ceeb71737c0bbe28/0_0_4332_2600/master/4332.jpg?width=780&quality=45&auto=format&fit=max&dpr=2&s=d031843206c6128cfd1491b4632d0cf7″,»width»:1560},{«src»:»https://i.guim.co.uk/img/media/8cf8d3911c1c6c82c95e3dc5ceeb71737c0bbe28/0_0_4332_2600/master/4332.jpg?width=620&quality=85&auto=format&fit=max&s=2a3a359d371f49a19b4c586688038963″,»width»:620},{«src»:»https://i.guim.co.uk/img/media/8cf8d3911c1c6c82c95e3dc5ceeb71737c0bbe28/0_0_4332_2600/master/4332.jpg?width=620&quality=45&auto=format&fit=max&dpr=2&s=9f0aec60989afbe1bb2bf1e9df7d71ba»,»width»:1240},{«src»:»https://i.guim.co.uk/img/media/8cf8d3911c1c6c82c95e3dc5ceeb71737c0bbe28/0_0_4332_2600/master/4332.jpg?width=605&quality=85&auto=format&fit=max&s=df42bca7ff87375c10394210f87dc6f9″,»width»:605},{«src»:»https://i.guim.co.uk/img/media/8cf8d3911c1c6c82c95e3dc5ceeb71737c0bbe28/0_0_4332_2600/master/4332.jpg?width=605&quality=45&auto=format&fit=max&dpr=2&s=1e9f116884a4cb38ee3dfd74175b947c»,»width»:1210},{«src»:»https://i.guim.co.uk/img/media/8cf8d3911c1c6c82c95e3dc5ceeb71737c0bbe28/0_0_4332_2600/master/4332.jpg?width=445&quality=85&auto=format&fit=max&s=e2c249a2c3a03657dc56b3710ae2131c»,»width»:445},{«src»:»https://i.guim.co.uk/img/media/8cf8d3911c1c6c82c95e3dc5ceeb71737c0bbe28/0_0_4332_2600/master/4332.jpg?width=445&quality=45&auto=format&fit=max&dpr=2&s=4d4dc15d15144033e448d8b7e42a0609″,»width»:890}]},{«weighting»:»halfwidth»,»srcSet»:[{«src»:»https://i.guim.co.uk/img/media/8cf8d3911c1c6c82c95e3dc5ceeb71737c0bbe28/0_0_4332_2600/master/4332.jpg?width=620&quality=85&auto=format&fit=max&s=2a3a359d371f49a19b4c586688038963″,»width»:620},{«src»:»https://i.guim.co.uk/img/media/8cf8d3911c1c6c82c95e3dc5ceeb71737c0bbe28/0_0_4332_2600/master/4332.jpg?width=620&quality=45&auto=format&fit=max&dpr=2&s=9f0aec60989afbe1bb2bf1e9df7d71ba»,»width»:1240},{«src»:»https://i.guim.co.uk/img/media/8cf8d3911c1c6c82c95e3dc5ceeb71737c0bbe28/0_0_4332_2600/master/4332.jpg?width=605&quality=85&auto=format&fit=max&s=df42bca7ff87375c10394210f87dc6f9″,»width»:605},{«src»:»https://i.guim.co.uk/img/media/8cf8d3911c1c6c82c95e3dc5ceeb71737c0bbe28/0_0_4332_2600/master/4332.jpg?width=605&quality=45&auto=format&fit=max&dpr=2&s=1e9f116884a4cb38ee3dfd74175b947c»,»width»:1210},{«src»:»https://i.guim.co.uk/img/media/8cf8d3911c1c6c82c95e3dc5ceeb71737c0bbe28/0_0_4332_2600/master/4332.jpg?width=445&quality=85&auto=format&fit=max&s=e2c249a2c3a03657dc56b3710ae2131c»,»width»:445},{«src»:»https://i.guim.co.uk/img/media/8cf8d3911c1c6c82c95e3dc5ceeb71737c0bbe28/0_0_4332_2600/master/4332.jpg?width=445&quality=45&auto=format&fit=max&dpr=2&s=4d4dc15d15144033e448d8b7e42a0609″,»width»:890}]},{«weighting»:»immersive»,»srcSet»:[{«src»:»https://i.guim.co.uk/img/media/8cf8d3911c1c6c82c95e3dc5ceeb71737c0bbe28/0_0_4332_2600/master/4332.jpg?width=1900&quality=85&auto=format&fit=max&s=58f8a99eb9ca2330b312c708c36a4c4f»,»width»:1900},{«src»:»https://i.guim.co.uk/img/media/8cf8d3911c1c6c82c95e3dc5ceeb71737c0bbe28/0_0_4332_2600/master/4332.jpg?width=1900&quality=45&auto=format&fit=max&dpr=2&s=0bc6f702053c0e579e947c6209b5ff8f»,»width»:3800},{«src»:»https://i.guim.co.uk/img/media/8cf8d3911c1c6c82c95e3dc5ceeb71737c0bbe28/0_0_4332_2600/master/4332.jpg?width=1300&quality=85&auto=format&fit=max&s=8e4dc69e1205f11fca578c7ac8092fda»,»width»:1300},{«src»:»https://i.guim.co.uk/img/media/8cf8d3911c1c6c82c95e3dc5ceeb71737c0bbe28/0_0_4332_2600/master/4332.jpg?width=1300&quality=45&auto=format&fit=max&dpr=2&s=f48e5286050b01f9c8a8fec1f1d3cd93″,»width»:2600},{«src»:»https://i.guim.co.uk/img/media/8cf8d3911c1c6c82c95e3dc5ceeb71737c0bbe28/0_0_4332_2600/master/4332.jpg?width=1140&quality=85&auto=format&fit=max&s=05e04023a374437895f508b415b76215″,»width»:1140},{«src»:»https://i.guim.co.uk/img/media/8cf8d3911c1c6c82c95e3dc5ceeb71737c0bbe28/0_0_4332_2600/master/4332.jpg?width=1140&quality=45&auto=format&fit=max&dpr=2&s=01cb87640174e5ac8615d9bb379325cd»,»width»:2280},{«src»:»https://i.guim.co.uk/img/media/8cf8d3911c1c6c82c95e3dc5ceeb71737c0bbe28/0_0_4332_2600/master/4332.jpg?width=980&quality=85&auto=format&fit=max&s=d7a5c2665454bebc77e652f0c6a36eab»,»width»:980},{«src»:»https://i.guim.co.uk/img/media/8cf8d3911c1c6c82c95e3dc5ceeb71737c0bbe28/0_0_4332_2600/master/4332.jpg?width=980&quality=45&auto=format&fit=max&dpr=2&s=79fbdef100ab61c45c8a518d1be9be63″,»width»:1960},{«src»:»https://i.guim.co.uk/img/media/8cf8d3911c1c6c82c95e3dc5ceeb71737c0bbe28/0_0_4332_2600/master/4332.jpg?width=740&quality=85&auto=format&fit=max&s=14e88cc6c159fa2c74398621d8fbe8c1″,»width»:740},{«src»:»https://i.guim.co.uk/img/media/8cf8d3911c1c6c82c95e3dc5ceeb71737c0bbe28/0_0_4332_2600/master/4332.jpg?width=740&quality=45&auto=format&fit=max&dpr=2&s=83f120efae04b628f33a1d6e96e1dfd2″,»width»:1480},{«src»:»https://i.guim.co.uk/img/media/8cf8d3911c1c6c82c95e3dc5ceeb71737c0bbe28/0_0_4332_2600/master/4332.jpg?width=660&quality=85&auto=format&fit=max&s=b96481840628b277765ae0b19e050918″,»width»:660},{«src»:»https://i.guim.co.uk/img/media/8cf8d3911c1c6c82c95e3dc5ceeb71737c0bbe28/0_0_4332_2600/master/4332.jpg?width=660&quality=45&auto=format&fit=max&dpr=2&s=8565c3ccf730a4513ddf6bae3ef25baa»,»width»:1320},{«src»:»https://i.guim.co.uk/img/media/8cf8d3911c1c6c82c95e3dc5ceeb71737c0bbe28/0_0_4332_2600/master/4332.jpg?width=480&quality=85&auto=format&fit=max&s=b530b8b6e70b4426ee16179bf3c99d02″,»width»:480},{«src»:»https://i.guim.co.uk/img/media/8cf8d3911c1c6c82c95e3dc5ceeb71737c0bbe28/0_0_4332_2600/master/4332.jpg?width=480&quality=45&auto=format&fit=max&dpr=2&s=8b5b23ae434b0a547c95ebbf4d35cbd2″,»width»:960}]}],»elementId»:»e27a0c2d-0eb6-4dfe-92e4-9370177149ec»}],»attributes»:{«pinned»:false,»keyEvent»:true,»abstract»:false},»blockCreatedOn»:1665515932000,»blockCreatedOnDisplay»:»15.18 EDT»,»blockLastUpdated»:1665516396000,»blockLastUpdatedDisplay»:»15.26 EDT»,»blockFirstPublished»:1665516013000,»blockFirstPublishedDisplay»:»15.20 EDT»,»blockFirstPublishedDisplayNoTimezone»:»15.20″,»title»:»Penalty to Chelsea and purple card for Tomori!»,»contributors»:[],»primaryDateLine»:»Tue 11 Oct 2022 17.24 EDT»,»secondaryDateLine»:»First revealed on Tue 11 Oct 2022 14.00 EDT»},{«id»:»6345ae9d8f085d1d9ceb9e7d»,»parts»:[{«_type»:»model.dotcomrendering.pageElements.TextBlockElement»,»html»:»

AC Milan: Tatarusanu, Kalulu Kyatengwa, Gabbia, Tomori, Hernandez, Bennacer, Tonali, Diaz, Krunic, Leao, Giroud.
Subs: Toure, Rebic, Dest, Origi, Messias, Pobega, Mirante, Coubis, Jungdal.

«,»elementId»:»27aa801f-61ef-478d-baa5-cd9b3ecc1624″},{«_type»:»model.dotcomrendering.pageElements.TextBlockElement»,»html»:»

Chelsea: Arrizabalaga, Chalobah, Thiago Silva, Koulibaly, James, Jorginho, Kovacic, Chilwell, Mount, Sterling, Aubameyang.
Subs: Pulisic, Loftus-Cheek, Bettinelli, Mendy, Broja, Zakaria, Gallagher, Azpilicueta, Havertz, Chukwuemeka, Cucurella.

«,»elementId»:»aadb42a2-76f6-4ffa-9806-6053d8c66013″},{«_type»:»model.dotcomrendering.pageElements.TextBlockElement»,»html»:»

Referee: Daniel Siebert (Germany).

«,»elementId»:»f03ed282-407a-4a17-bc60-0508f757d77a»},{«_type»:»model.dotcomrendering.pageElements.ImageBlockElement»,»media»:{«allImages»:[{«index»:0,»fields»:{«height»:»2914″,»width»:»2333″},»mediaType»:»Image»,»mimeType»:»image/jpeg»,»url»:»https://media.guim.co.uk/d8bfbc369392a140b4c3861f7a07ce3d4ccd7ee9/0_77_2333_2914/2333.jpg»},{«index»:1,»fields»:{«isMaster»:»true»,»height»:»2914″,»width»:»2333″},»mediaType»:»Image»,»mimeType»:»image/jpeg»,»url»:»https://media.guim.co.uk/d8bfbc369392a140b4c3861f7a07ce3d4ccd7ee9/0_77_2333_2914/master/2333.jpg»},{«index»:2,»fields»:{«height»:»2000″,»width»:»1601″},»mediaType»:»Image»,»mimeType»:»image/jpeg»,»url»:»https://media.guim.co.uk/d8bfbc369392a140b4c3861f7a07ce3d4ccd7ee9/0_77_2333_2914/1601.jpg»},{«index»:3,»fields»:{«height»:»1000″,»width»:»801″},»mediaType»:»Image»,»mimeType»:»image/jpeg»,»url»:»https://media.guim.co.uk/d8bfbc369392a140b4c3861f7a07ce3d4ccd7ee9/0_77_2333_2914/801.jpg»},{«index»:4,»fields»:{«height»:»500″,»width»:»400″},»mediaType»:»Image»,»mimeType»:»image/jpeg»,»url»:»https://media.guim.co.uk/d8bfbc369392a140b4c3861f7a07ce3d4ccd7ee9/0_77_2333_2914/400.jpg»}]},»information»:{«alt»:»A royalist AC Milan fan shows a banner of Queen Elizabeth II»,»caption»:»A royalist AC Milan fan shows a banner of Queen Elizabeth II»,»credit score»:»{Photograph}: Daniele Mascolo/Reuters»},»displayCredit»:true,»function»:»inline»,»imageSources»:[{«weighting»:»inline»,»srcSet»:[{«src»:»https://i.guim.co.uk/img/media/d8bfbc369392a140b4c3861f7a07ce3d4ccd7ee9/0_77_2333_2914/master/2333.jpg?width=620&quality=85&auto=format&fit=max&s=99990b7712b71b283cb10edbd9a27b17″,»width»:620},{«src»:»https://i.guim.co.uk/img/media/d8bfbc369392a140b4c3861f7a07ce3d4ccd7ee9/0_77_2333_2914/master/2333.jpg?width=620&quality=45&auto=format&fit=max&dpr=2&s=23f1ea5ab272e50d56bda3553b2190dc»,»width»:1240},{«src»:»https://i.guim.co.uk/img/media/d8bfbc369392a140b4c3861f7a07ce3d4ccd7ee9/0_77_2333_2914/master/2333.jpg?width=605&quality=85&auto=format&fit=max&s=a67de1d52ef48b7254993ab4c7eab558″,»width»:605},{«src»:»https://i.guim.co.uk/img/media/d8bfbc369392a140b4c3861f7a07ce3d4ccd7ee9/0_77_2333_2914/master/2333.jpg?width=605&quality=45&auto=format&fit=max&dpr=2&s=cd5160c4a3ba7426d31ac5d58178e7c9″,»width»:1210},{«src»:»https://i.guim.co.uk/img/media/d8bfbc369392a140b4c3861f7a07ce3d4ccd7ee9/0_77_2333_2914/master/2333.jpg?width=445&quality=85&auto=format&fit=max&s=75d47151fe9e8b2eb7a942522851a876″,»width»:445},{«src»:»https://i.guim.co.uk/img/media/d8bfbc369392a140b4c3861f7a07ce3d4ccd7ee9/0_77_2333_2914/master/2333.jpg?width=445&quality=45&auto=format&fit=max&dpr=2&s=aacb6be67b90121947469855a9d48832″,»width»:890}]},{«weighting»:»thumbnail»,»srcSet»:[{«src»:»https://i.guim.co.uk/img/media/d8bfbc369392a140b4c3861f7a07ce3d4ccd7ee9/0_77_2333_2914/master/2333.jpg?width=140&quality=85&auto=format&fit=max&s=043894e6b84ed0f1d21e5a44e7158b5d»,»width»:140},{«src»:»https://i.guim.co.uk/img/media/d8bfbc369392a140b4c3861f7a07ce3d4ccd7ee9/0_77_2333_2914/master/2333.jpg?width=140&quality=45&auto=format&fit=max&dpr=2&s=d1a188340292a3b3993a044cc8512ce0″,»width»:280},{«src»:»https://i.guim.co.uk/img/media/d8bfbc369392a140b4c3861f7a07ce3d4ccd7ee9/0_77_2333_2914/master/2333.jpg?width=120&quality=85&auto=format&fit=max&s=9fe92fb42f9f8ef152ce0f01c4d547ee»,»width»:120},{«src»:»https://i.guim.co.uk/img/media/d8bfbc369392a140b4c3861f7a07ce3d4ccd7ee9/0_77_2333_2914/master/2333.jpg?width=120&quality=45&auto=format&fit=max&dpr=2&s=9281add6b7a89d3ac192c9964e6fdba6″,»width»:240}]},{«weighting»:»supporting»,»srcSet»:[{«src»:»https://i.guim.co.uk/img/media/d8bfbc369392a140b4c3861f7a07ce3d4ccd7ee9/0_77_2333_2914/master/2333.jpg?width=380&quality=85&auto=format&fit=max&s=0f7f253e3e3a6e1cb937f3c9df20398c»,»width»:380},{«src»:»https://i.guim.co.uk/img/media/d8bfbc369392a140b4c3861f7a07ce3d4ccd7ee9/0_77_2333_2914/master/2333.jpg?width=380&quality=45&auto=format&fit=max&dpr=2&s=ec1d139938a48dd4909668f8d8489c47″,»width»:760},{«src»:»https://i.guim.co.uk/img/media/d8bfbc369392a140b4c3861f7a07ce3d4ccd7ee9/0_77_2333_2914/master/2333.jpg?width=300&quality=85&auto=format&fit=max&s=7401cd884ffad21e4fd961caf0522d46″,»width»:300},{«src»:»https://i.guim.co.uk/img/media/d8bfbc369392a140b4c3861f7a07ce3d4ccd7ee9/0_77_2333_2914/master/2333.jpg?width=300&quality=45&auto=format&fit=max&dpr=2&s=fdc6a71f3a040354ce4a0d33317b9eb8″,»width»:600},{«src»:»https://i.guim.co.uk/img/media/d8bfbc369392a140b4c3861f7a07ce3d4ccd7ee9/0_77_2333_2914/master/2333.jpg?width=620&quality=85&auto=format&fit=max&s=99990b7712b71b283cb10edbd9a27b17″,»width»:620},{«src»:»https://i.guim.co.uk/img/media/d8bfbc369392a140b4c3861f7a07ce3d4ccd7ee9/0_77_2333_2914/master/2333.jpg?width=620&quality=45&auto=format&fit=max&dpr=2&s=23f1ea5ab272e50d56bda3553b2190dc»,»width»:1240},{«src»:»https://i.guim.co.uk/img/media/d8bfbc369392a140b4c3861f7a07ce3d4ccd7ee9/0_77_2333_2914/master/2333.jpg?width=605&quality=85&auto=format&fit=max&s=a67de1d52ef48b7254993ab4c7eab558″,»width»:605},{«src»:»https://i.guim.co.uk/img/media/d8bfbc369392a140b4c3861f7a07ce3d4ccd7ee9/0_77_2333_2914/master/2333.jpg?width=605&quality=45&auto=format&fit=max&dpr=2&s=cd5160c4a3ba7426d31ac5d58178e7c9″,»width»:1210},{«src»:»https://i.guim.co.uk/img/media/d8bfbc369392a140b4c3861f7a07ce3d4ccd7ee9/0_77_2333_2914/master/2333.jpg?width=445&quality=85&auto=format&fit=max&s=75d47151fe9e8b2eb7a942522851a876″,»width»:445},{«src»:»https://i.guim.co.uk/img/media/d8bfbc369392a140b4c3861f7a07ce3d4ccd7ee9/0_77_2333_2914/master/2333.jpg?width=445&quality=45&auto=format&fit=max&dpr=2&s=aacb6be67b90121947469855a9d48832″,»width»:890}]},{«weighting»:»showcase»,»srcSet»:[{«src»:»https://i.guim.co.uk/img/media/d8bfbc369392a140b4c3861f7a07ce3d4ccd7ee9/0_77_2333_2914/master/2333.jpg?width=860&quality=85&auto=format&fit=max&s=8fc2cab9adb212e880338805e968568b»,»width»:860},{«src»:»https://i.guim.co.uk/img/media/d8bfbc369392a140b4c3861f7a07ce3d4ccd7ee9/0_77_2333_2914/master/2333.jpg?width=860&quality=45&auto=format&fit=max&dpr=2&s=6c5d9c097650b27967489e4cd7cf6068″,»width»:1720},{«src»:»https://i.guim.co.uk/img/media/d8bfbc369392a140b4c3861f7a07ce3d4ccd7ee9/0_77_2333_2914/master/2333.jpg?width=780&quality=85&auto=format&fit=max&s=68eb3fc93f3508c827eeb83c364dc0ce»,»width»:780},{«src»:»https://i.guim.co.uk/img/media/d8bfbc369392a140b4c3861f7a07ce3d4ccd7ee9/0_77_2333_2914/master/2333.jpg?width=780&quality=45&auto=format&fit=max&dpr=2&s=7c863a0681b5c7c97378b5b177550609″,»width»:1560},{«src»:»https://i.guim.co.uk/img/media/d8bfbc369392a140b4c3861f7a07ce3d4ccd7ee9/0_77_2333_2914/master/2333.jpg?width=620&quality=85&auto=format&fit=max&s=99990b7712b71b283cb10edbd9a27b17″,»width»:620},{«src»:»https://i.guim.co.uk/img/media/d8bfbc369392a140b4c3861f7a07ce3d4ccd7ee9/0_77_2333_2914/master/2333.jpg?width=620&quality=45&auto=format&fit=max&dpr=2&s=23f1ea5ab272e50d56bda3553b2190dc»,»width»:1240},{«src»:»https://i.guim.co.uk/img/media/d8bfbc369392a140b4c3861f7a07ce3d4ccd7ee9/0_77_2333_2914/master/2333.jpg?width=605&quality=85&auto=format&fit=max&s=a67de1d52ef48b7254993ab4c7eab558″,»width»:605},{«src»:»https://i.guim.co.uk/img/media/d8bfbc369392a140b4c3861f7a07ce3d4ccd7ee9/0_77_2333_2914/master/2333.jpg?width=605&quality=45&auto=format&fit=max&dpr=2&s=cd5160c4a3ba7426d31ac5d58178e7c9″,»width»:1210},{«src»:»https://i.guim.co.uk/img/media/d8bfbc369392a140b4c3861f7a07ce3d4ccd7ee9/0_77_2333_2914/master/2333.jpg?width=445&quality=85&auto=format&fit=max&s=75d47151fe9e8b2eb7a942522851a876″,»width»:445},{«src»:»https://i.guim.co.uk/img/media/d8bfbc369392a140b4c3861f7a07ce3d4ccd7ee9/0_77_2333_2914/master/2333.jpg?width=445&quality=45&auto=format&fit=max&dpr=2&s=aacb6be67b90121947469855a9d48832″,»width»:890}]},{«weighting»:»halfwidth»,»srcSet»:[{«src»:»https://i.guim.co.uk/img/media/d8bfbc369392a140b4c3861f7a07ce3d4ccd7ee9/0_77_2333_2914/master/2333.jpg?width=620&quality=85&auto=format&fit=max&s=99990b7712b71b283cb10edbd9a27b17″,»width»:620},{«src»:»https://i.guim.co.uk/img/media/d8bfbc369392a140b4c3861f7a07ce3d4ccd7ee9/0_77_2333_2914/master/2333.jpg?width=620&quality=45&auto=format&fit=max&dpr=2&s=23f1ea5ab272e50d56bda3553b2190dc»,»width»:1240},{«src»:»https://i.guim.co.uk/img/media/d8bfbc369392a140b4c3861f7a07ce3d4ccd7ee9/0_77_2333_2914/master/2333.jpg?width=605&quality=85&auto=format&fit=max&s=a67de1d52ef48b7254993ab4c7eab558″,»width»:605},{«src»:»https://i.guim.co.uk/img/media/d8bfbc369392a140b4c3861f7a07ce3d4ccd7ee9/0_77_2333_2914/master/2333.jpg?width=605&quality=45&auto=format&fit=max&dpr=2&s=cd5160c4a3ba7426d31ac5d58178e7c9″,»width»:1210},{«src»:»https://i.guim.co.uk/img/media/d8bfbc369392a140b4c3861f7a07ce3d4ccd7ee9/0_77_2333_2914/master/2333.jpg?width=445&quality=85&auto=format&fit=max&s=75d47151fe9e8b2eb7a942522851a876″,»width»:445},{«src»:»https://i.guim.co.uk/img/media/d8bfbc369392a140b4c3861f7a07ce3d4ccd7ee9/0_77_2333_2914/master/2333.jpg?width=445&quality=45&auto=format&fit=max&dpr=2&s=aacb6be67b90121947469855a9d48832″,»width»:890}]},{«weighting»:»immersive»,»srcSet»:[{«src»:»https://i.guim.co.uk/img/media/d8bfbc369392a140b4c3861f7a07ce3d4ccd7ee9/0_77_2333_2914/master/2333.jpg?width=1900&quality=85&auto=format&fit=max&s=0e4164ca46a9f7b89b832b2b88da4d8d»,»width»:1900},{«src»:»https://i.guim.co.uk/img/media/d8bfbc369392a140b4c3861f7a07ce3d4ccd7ee9/0_77_2333_2914/master/2333.jpg?width=1900&quality=45&auto=format&fit=max&dpr=2&s=2d281651b84ee64cf75114dad9ee5e49″,»width»:3800},{«src»:»https://i.guim.co.uk/img/media/d8bfbc369392a140b4c3861f7a07ce3d4ccd7ee9/0_77_2333_2914/master/2333.jpg?width=1300&quality=85&auto=format&fit=max&s=a66e5165a319247d0a0e0ed71cbf9bf3″,»width»:1300},{«src»:»https://i.guim.co.uk/img/media/d8bfbc369392a140b4c3861f7a07ce3d4ccd7ee9/0_77_2333_2914/master/2333.jpg?width=1300&quality=45&auto=format&fit=max&dpr=2&s=5c5cb4211e9e4c0e54db89c98792ec29″,»width»:2600},{«src»:»https://i.guim.co.uk/img/media/d8bfbc369392a140b4c3861f7a07ce3d4ccd7ee9/0_77_2333_2914/master/2333.jpg?width=1140&quality=85&auto=format&fit=max&s=583506a9c82c4f15bacca371cb9122b0″,»width»:1140},{«src»:»https://i.guim.co.uk/img/media/d8bfbc369392a140b4c3861f7a07ce3d4ccd7ee9/0_77_2333_2914/master/2333.jpg?width=1140&quality=45&auto=format&fit=max&dpr=2&s=05ae09a706c210505853aa6438ddc755″,»width»:2280},{«src»:»https://i.guim.co.uk/img/media/d8bfbc369392a140b4c3861f7a07ce3d4ccd7ee9/0_77_2333_2914/master/2333.jpg?width=980&quality=85&auto=format&fit=max&s=a803bc71c537a2dca43c94aadb015989″,»width»:980},{«src»:»https://i.guim.co.uk/img/media/d8bfbc369392a140b4c3861f7a07ce3d4ccd7ee9/0_77_2333_2914/master/2333.jpg?width=980&quality=45&auto=format&fit=max&dpr=2&s=2ed897141d635ad6ec45f3515a203000″,»width»:1960},{«src»:»https://i.guim.co.uk/img/media/d8bfbc369392a140b4c3861f7a07ce3d4ccd7ee9/0_77_2333_2914/master/2333.jpg?width=740&quality=85&auto=format&fit=max&s=b95ccba31eeef6879ccdecca9356b466″,»width»:740},{«src»:»https://i.guim.co.uk/img/media/d8bfbc369392a140b4c3861f7a07ce3d4ccd7ee9/0_77_2333_2914/master/2333.jpg?width=740&quality=45&auto=format&fit=max&dpr=2&s=09bf429115c932c4b2700e47fb200326″,»width»:1480},{«src»:»https://i.guim.co.uk/img/media/d8bfbc369392a140b4c3861f7a07ce3d4ccd7ee9/0_77_2333_2914/master/2333.jpg?width=660&quality=85&auto=format&fit=max&s=3a24f341cb9d9a6f54f8c510aada00d3″,»width»:660},{«src»:»https://i.guim.co.uk/img/media/d8bfbc369392a140b4c3861f7a07ce3d4ccd7ee9/0_77_2333_2914/master/2333.jpg?width=660&quality=45&auto=format&fit=max&dpr=2&s=a3354aab4f6cd163e997d28d64540970″,»width»:1320},{«src»:»https://i.guim.co.uk/img/media/d8bfbc369392a140b4c3861f7a07ce3d4ccd7ee9/0_77_2333_2914/master/2333.jpg?width=480&quality=85&auto=format&fit=max&s=ae3c378f45c8bc6672cace71b5846c87″,»width»:480},{«src»:»https://i.guim.co.uk/img/media/d8bfbc369392a140b4c3861f7a07ce3d4ccd7ee9/0_77_2333_2914/master/2333.jpg?width=480&quality=45&auto=format&fit=max&dpr=2&s=2b6ed73f0835a90403c25b7c1dcb1dae»,»width»:960}]}],»elementId»:»705861cb-0330-42ee-a57a-3eba2bc89efb»}],»attributes»:{«pinned»:false,»keyEvent»:true,»abstract»:false},»blockCreatedOn»:1665511210000,»blockCreatedOnDisplay»:»14.00 EDT»,»blockLastUpdated»:1665514414000,»blockLastUpdatedDisplay»:»14.53 EDT»,»blockFirstPublished»:1665511319000,»blockFirstPublishedDisplay»:»14.01 EDT»,»blockFirstPublishedDisplayNoTimezone»:»14.01″,»title»:»The groups»,»contributors»:[],»primaryDateLine»:»Tue 11 Oct 2022 17.24 EDT»,»secondaryDateLine»:»First revealed on Tue 11 Oct 2022 14.00 EDT»},{«id»:»634576798f08253e9d658fe1″,»parts»:[{«_type»:»model.dotcomrendering.pageElements.TextBlockElement»,»html»:»

Last week this happened …

«,»elementId»:»d15997db-8c62-4657-a543-0091f9b21330″},{«_type»:»model.dotcomrendering.pageElements.RichLinkBlockElement»,»url»:»https://www.theguardian.com/football/live/2022/oct/05/chelsea-v-milan-champions-league-live-score-updates»,»text»:»Chelsea 3-0 Milan: Champions League – as it happened»,»prefix»:»Related: «,»role»:»thumbnail»,»elementId»:»30b69d29-0b2b-42fb-80e9-c316cd9df05d»},{«_type»:»model.dotcomrendering.pageElements.TextBlockElement»,»html»:»

… and now Group E is much easier on Chelsea's eye. Graham Potter's side dominated Milan at Stamford Bridge last week, and if they put in a similar performance tonight at San Siro, they'll take a huge step towards the knockout phase. Or will Milan bounce back and throw everything up in the air again? Kick off is at 8pm BST. It's on!

«,»elementId»:»07dd13cf-fb92-4e0a-89b9-9a2cda247997″},{«_type»:»model.dotcomrendering.pageElements.TableBlockElement»,»html»:»
| Pos | Team | P | GD | Pts |
| --- | --- | --- | --- | --- |
| 1 | Red Bull Salzburg | 3 | 1 | 5 |
| 2 | Chelsea | 3 | 2 | 4 |
| 3 | AC Milan | 3 | -1 | 4 |
| 4 | Dinamo Zagreb | 3 | -2 | 3 |
«,»role»:»inline»,»isMandatory»:true,»elementId»:»ab7c2ac5-0800-4c1a-b4d1-7034947f1fe0″}],»attributes»:{«pinned»:false,»keyEvent»:true,»abstract»:false},»blockCreatedOn»:1665511210000,»blockCreatedOnDisplay»:»14.00 EDT»,»blockLastUpdated»:1665496956000,»blockLastUpdatedDisplay»:»10.02 EDT»,»blockFirstPublished»:1665511210000,»blockFirstPublishedDisplay»:»14.00 EDT»,»blockFirstPublishedDisplayNoTimezone»:»14.00″,»title»:»Preamble»,»contributors»:[],»primaryDateLine»:»Tue 11 Oct 2022 17.24 EDT»,»secondaryDateLine»:»First revealed on Tue 11 Oct 2022 14.00 EDT»}],»filterKeyEvents»:false,»format»:{«show»:0,»theme»:2,»design»:11},»id»:»key-events-carousel-mobile»}»>
foremost occasions
Jacob Steinberg was in Milan and his report is right here. Thanks for studying this MBM. My nighty night time!
Graham Potter talking to BT Sport. «Coming right here and successful isn't straightforward, that is for positive. Even credit score to the gamers. They have been actually good. We had a little bit of luck with the opponent down to 10, however the efficiency was good general. It is good to maintain a clear sheet once more.» «Going three factors is nice for us. I did not watch the expulsion but it surely seems to be like he is holding his hand and Mason had hit the purpose however I will want to have a look at him once more It was a pleasant transfer to get there within the first place.» the primary «.
With the Zagreb match between Dinamo and Salzburg ending 1-1, that is what Group E seems to be like tonight. Enjoyable learn for Chelsea. Not a lot for the Italian champions.
Full time: Milan 0-2 Chelsea
No objectives, six yellow and one purple for Milan; Two objectives, three yellows and one worrying harm to Reece James for Chelsea. A deserved win for the rookie facet of Graham Potter, who have been on the backside of Group E final week and at the moment are high.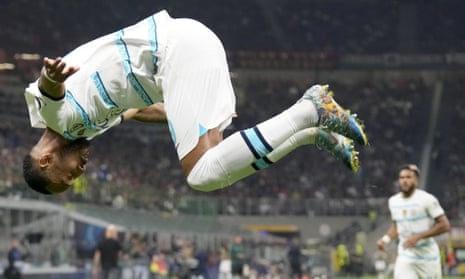 90 min +4: Loftus-Cheek has a strike. The ball breaks from Havertz to Gallagher, whose shot is blocked by Titorchano. Then the flag rises for offside.
90 min +3: Milan followers proceed to make nice noise, regardless that their staff as soon as once more provides them little or no to sing about.
90 min +1: Some house for Origi on the backside left. Origi steps again and walks towards the field, earlier than attempting to shock Kiba with a low shot down the left. The Chelsea goalkeeper stands behind him all the best way.
90 minutes: That is it for Chilwell, who's advantageous, however he is been changed by Cucurella. Ballo-Toure then goes to the guide to glide by means of Azpilicueta. There shall be 4 extra minutes.
89 minutes: Tonali was booked for sticking an arm by means of Chilwell's throat.
88 minutes: Azpilicueta slips on the correct and cuts to Gallagher, 12 yards away. Gallagher cannot prepare his toes for a shot. The ball is handed again to Chilwell, who pulls a speculative ball extensive to the correct.
86 minutes: Gallagher was booked for a brunch on the Ballo-Toure.
84 minutes: Below stress of any form, Gabia rolled a move out of play for a throw. A method or one other, it wasn't Milan night time.
82 minutes: Extra possession by Chelsea. The clock is ticking. And abruptly Jorginho sank within the center in favor of Havertz, who shall be free within the penalty space, however is unable to drop the ball over his shoulder.
80 minutes: Aubameyang provides approach to Havertz, whereas Palo Toure and Origi are available within the place of Liao and Hernandez.
79 minutes: House followers whistle. The distant part breaks Ulysses. Tonali, annoyed, lifts Jorginho for Jackie. Nothing too tough, so simply ticking.
78 minutes: Chelsea is cruising for enjoyable now, consuming time in opposition to the ten males with careless ease.
76 minutes: Loftus-Cheek makes a move down the left inside channel for Aubameyang, who improvises a scoop shot by means of Tătăruşanu which solely floats within the high proper nook. Actually, the ball takes a slight deflection, regardless that nothing comes out of the ensuing angle.
75 minutes: Shalloba makes horrific balls out of an extended ball down the center. He misfires on management after which falls, permitting Liu to tear the ball aside. Leao should move the ball to Rebic, simply to his left. Had he achieved that, Rebek would have been free. However he hesitates, selecting to go alone, and permits Shaluba to make up for his mistake by going again and serving to Coulibaly fend off him.
73 minutes: Chelsea run the match in a trouble-free method. They hardly missed out this night.
71 minutes: Shaloba digs from afar. no. In the meantime, Milan followers are making their very own leisure, and a number of noise. Regardless of all this, they introduced one environment of hell tonight.
70 minutes: There's a penalty kick by the VAR. It isn't completely clear what its function is. Gabia wrestles with Jorginho within the aforementioned nook, maybe. no matter. The VAR isn't .
69 minutes: Loftus-Cheek feeds Azpilicueta who earns Chelsea a nook kick down the correct. Half of the chosen lot has been evacuated by Milan. Chilwell goes for a surprising from 30 yards. no.
67 minutes: Pobega clips Loftus-Cheek on the toe, and goes to the guide. Milan followers are predictably offended, however their participant by no means will get near the ball.
65 minutes: A sense in the meanwhile is that each groups will fortunately announce the consequence now. Nothing occurs a lot.
63 minutes: Milan reply by changing Benasser, Giroud Pribec and Boubiga.
62 minutes: James is changed by Azpilicueta, whereas Sterling provides approach to Loftus-Cheek.
61 minutes: Ah, this isn't excellent news. Deest James simply overtook there, and now the Chelsea defender is down once more. He clearly feels his knee and will not be capable of proceed. He is a minimum of capable of stand up and out below his energy, however he seems to be apprehensive, the World Cup is arising, all that.
60 minutes: Leao runs the jets and whistles down the left seam. Lengthy spins for dest, coming from the opposite facet. Dest has time to the touch, get into the field, line up the shot… then shine carelessly extensive and excessive. Large probability.
58 minutes: Excellent news: James is again after vogue, and he is completely happy to proceed. Chelsea's hearts have been within the mouths for a second there. Only for a second or two, it appeared grim.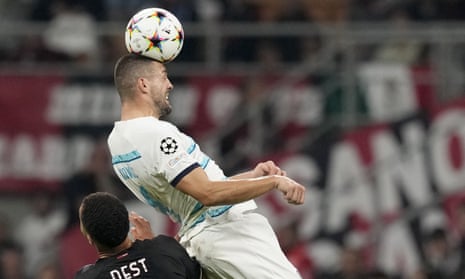 56 minutes: James stretches to drop the ball off Hernandez's toe, then lands awkwardly. He fell injured in his proper knee. I hope it isn't a severe improvement, but it surely appears to be in a number of ache.
54 minutes: Kovacic makes a move down the left to Chilwell, who whistled low cross by means of the six-yard space. Aubameyang and Sterling cannot fairly get there. The ball is recycled to Kovacic, who misses a shot off the sting of D.. The ball hits Aubameyang, who tries to make a flick previous Tătăruşanu, however the goalkeeper blocks nicely.
53 minutes: Chilwell hits it lengthy however Silva cannot join correctly within the far stick. Milan wipes their traces.
52 minutes: Gabia was pressured to concede a nook kick as Aubameyang pressed him down the left. Chilwell to take.
50 minutes: James meets with a cross move from the left and collects a weak shot on the correct vary. Chelsea are urgent for a 3rd purpose that may absolutely rid them of any lingering doubt.
49 minutes: Chalobah makes a mild move down the correct inside channel for Gallagher, who enters the penalty space and passes Tătăruşanu to the correct of the goalkeeper. Gallagher tries to open from a slim angle, however he can solely discover the facet grille.
48 minutes: Dest cuts from the within from the correct and Tonali slides to clear the canal. Tonali returns to a crowded chest, however Silva is about to do away with the Giroud who's lurking him.
47 minutes: Chelsea beats him patiently. Jorginho then points a move down the left and will get near firing Chilwell into the field. Chilwell obtained it unsuitable and the flag pops up for offside anyway.
Milan begins the second half. Conor Gallagher comes with Magnificent Mason Mount, who did greater than sufficient to earn some downtime.
Administrative replace. Within the wake of the large determination, each Mount and Giroud have been booked, almost certainly as a consequence of extreme throbbing within the neck. So, with one participant already despatched off, there are 5 extra misdemeanors away from becoming a member of Tomori for early showers: Giroud, Gabbia and Kronich for AC Milan and Mount and Sterling for Chelsea. There have been 17 free kicks in that half, most of which conceded Chelsea (ten).
For the report, BT Sport analyst Rio Ferdinand agrees with the penalty determination and purple card. «Nowhere else on the sphere, [Tomori's tug on Chilwell] Will probably be known as as an error. The rulebook states that if there isn't a intention to play the ball, and it doesn't exist, you'll obtain a purple card. The principles are the foundations. I do not essentially agree with them, I will all the time get upset, however the guidelines are the foundations.»
Half time commercial. Open an account now! Open an account now! open an account now? Open an account now!
First half: Milan 0-2 Chelsea
Milan hear the whistle on the finish of the primary half. Then several types of whistles as followers give the referee Daniel Seibert the Flying. Say what you want concerning the severity (or in any other case) of the penalty determination and purple card, Chelsea have been implausible and need to be high.
45 min +4: The set up swings from the free kick within the mixer. Liao headed clear. Milan really want to listen to the halftime whistle.
45 min +3: James falls to the correct and is tossed by Gabia, who's already booked. Only a free kick. Milan is actually rocking the tightrope right here.
45 min +2: Chelsea spend the primary two additional minutes hitting the ball.
45 minutes: There shall be an additional 5 minutes within the first half. This provides Harriet Osborne time to take care of my description (37 minutes) of Sergino Dest. The «most defensive vacation spot» generally is a bit deceptive. It's basically america' response to Trent Alexander Arnold. Nice going ahead (particularly for his nation) however lacks protection a bit.»
44 minutes: Mount simply spins away from Hernández, taking a step down the correct inside channel earlier than firing a low shot in direction of the underside proper. Tătăruşanu wants to increase itself at full energy to be able to go across the shaft. Nothing comes from the ensuing angle. The mountain was good tonight. He takes half in each objectives, and could be very comfy in possession. It deserves a pay increase!
43 minutes: Within the different Group E match, Robert Ljubicic equalized for Dinamo Zagreb in opposition to Salzburg. It is 1-1 at Maksimir Stadium.
42 minutes: James finds himself with house and time on the correct. He has a number of teammates within the penalty space, however he floats an uncharacteristically poor cross for a purpose kick. He has the great grace to apologize to his mates.
41 minutes: Chelsea's eleven males hit the ball in the course of the backyard, simply because they will. Milan's ten males cannot get near him.
39 minutes: Leao drops his shoulder and earns a nook kick down the left. Hernandez hits her lengthy. Jiro rises to the highest of the far submit, ten yards away, however he cannot maintain his head down and the ball sails unhurt to the runway.
37 minutes: …and with that in thoughts, Diaz has been changed by the defensive-minded Dest.
36 minutes: Kruni is within the guide now, for the final noggin's loss. Milan really want to relax right here. What occurred has occurred, and there's a very lengthy approach to go.
35 minutes: This was a scrumptious ending. Tătăruşanu was absolutely anticipating Aubameyang to shoot him down in direction of the left. no!